There are five easy ways to form an even stronger relationship with your clients and creating the best virtual event they will ever host, while simultaneously increasing your production value.
As much as one dislikes the expression "the new normal", it seems that it is here to stay for a little longer, and whatever was used to be "normal" is undergoing fundamental changes for years to come. That isn't necessarily a scary or odious thing, on the contrary: as both online/virtual events and hybrid solutions have begun taking semi-temporary residence in an industry that used to be dominated by live experience, event professionals have started adapting to the new landscape at lightning speed. For instance, our global network of leading audiovisual companies have become go-to experts in all virtual-related technologies that everyone thought there would be ample time to familiarize with in the coming years. While rising to this challenge, they are also focusing even more attention and care on the needs of their clients than ever before.
Client transformation: from novice to tech-savvy
In the past months awareness regarding virtual events has increased significantly, and clients have become more savvy in online solutions. They understand the importance of creating an engaging world in the digital environment, and are no longer looking for solutions that only involve one person on a computer screen. However, most clients will be the first to admit that they feel a little lost when it comes to the technological aspects of virtual events. And understandably so: never before did they have to be part of the "tech magic", simply because it was all taken care of by the on-site by a crew of technicians. This time, due to the peculiar circumstances – especially the physical distance – in which online events are now produced, clients often find themselves all alone facing blank screens instead of live audiences, and it is up to the AV and event professionals to help them feel at ease, involved, focused, and most importantly comfortable with their own role in the technical aspects of production.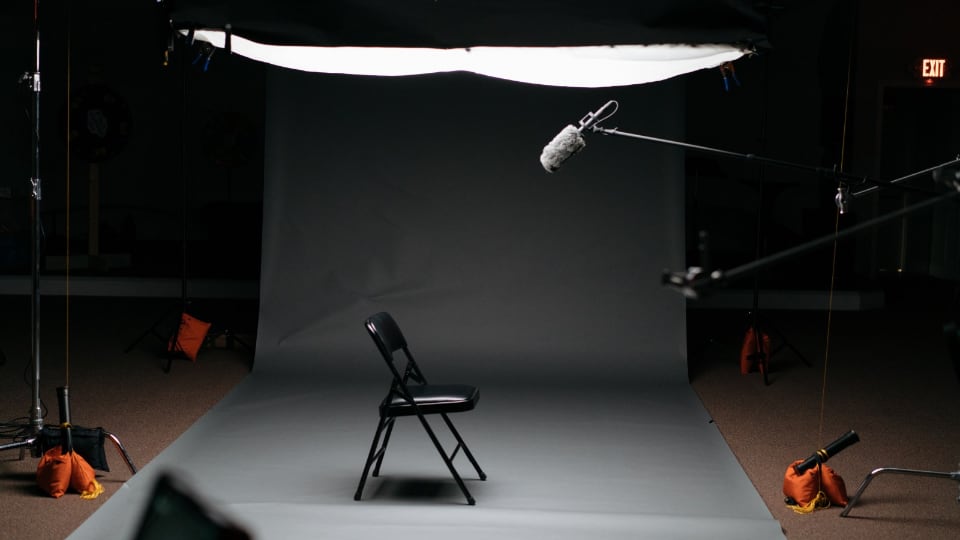 Building long lasting, trust-based relationships with clients has become even easier for those who take the right approach. So what are the five most important virtual event hosting practices that AV companies and event producers can follow to make the client's experience and their collaboration even smoother?
1. Match the technology to their content
AV suppliers and event production companies need to understand the event's objectives and make the right creative recommendations that align with the client's strategy and make the event come alive. It is our job to emphasize that the basis of any amazing online meeting, conference, summit, etc. are the unique, creative ideas, and the fun, engaging content, which have little to do with actual technology.
In the virtual world the sky's the limit when it comes to technology, and this abundance means that for every strategic goal there is a right digital solution. Once these goals and creative elements are understood, we provide the appropriate platform, software, and equipment that can bring these ideas to life, create a complete audio visual experience, and deliver the wow factor to the client.
2. Content is king, but rehearsal is queen
Virtual events may be a lot of work for AV professionals, but they are a lot of work for the clients, too, who are most likely facing the technical challenge home alone. It is our responsibility to explain what exactly will be asked of them, and how they will be able to do those things. No amount of rehearsal is too much when it comes to virtual events!
Because of the peculiar circumstances, especially the physical distance, rehearsals are more important now than they have ever been with in-person events. Whether we like it or not, experts and clients are now learning together, step by step, and being patient and open to the process is absolute key.
3. Demonstrate, demonstrate, demonstrate
Help your clients see how the different resources, the creative and technological aspects all come together to make up the a virtual event, and make them less focused on the scary technology part. By demonstrating them how the entire production comes together from beginning to end, they can stop worrying, knowing they are in good hands.
Prepare demos with your technicians for your clients – whether they are the corporate partner, an event planner, or the speaker – for each step of the preparation process, and show them how everything should be done. This comes in extra handy when they need to work with any kind of equipment on their own, or when you send speakers kits to their homes (i.e. green screen, lighting setup, etc.) that they will have to assemble on their own.
4. Provide them with dedicated tech support
Keep in mind that this is uncharted territory for most clients who aren't in the tech industry. They are not used to being their own IT department, therefore it is important to delegate a member of your staff who can walk them through any technical issues, ease their fears, understand their needs, and provide prompt support for even the seemingly most trivial parts – such as a stable internet connection – of hosting a virtual event.
Once you "help clients over the tech hump" smoothly and easily during rehearsals, and they know that the technical aspects are in good hands, instead of worrying they are able to focus on the creative side of things and tap into the power of virtual engagement.
5. Raise the attendee engagement level
One of the biggest challenges of virtual events, or any kind of in-person conference or summit for that matter, has always been audience engagement. With the current overload of endless Zoom calls at work, employees and organizers cannot rely on personal contact and live experience to keep their attention focused. The virtual environment makes it that much easier for attendees to get disengaged and leave a meeting without any hassle or inconvenience, once their interest levels have dropped.
Event producers and technology suppliers are there to show clients creative ways to engage with their attendees, and suggest different ideas – live polls, entertainment, pre-recorded audio visual content, interactive tools, incentives, AI and VR elements, etc. – that tie participants to their computer screens and not take unnecessary breaks. It is no longer about just technology, it is about great content, experience, and making any event fun. Thankfully, our AV Alliance members are well ahead of the curve in this challenge.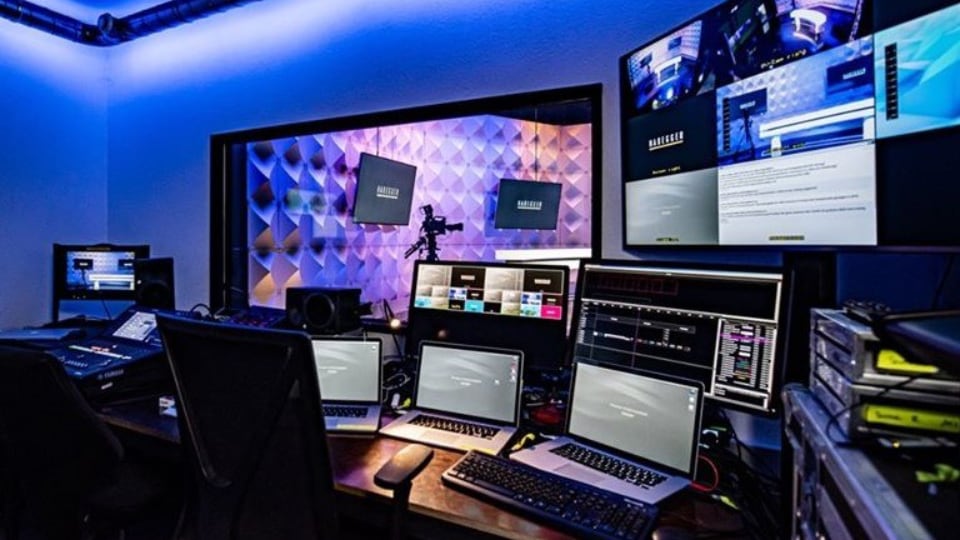 Credit: Habegger | AV Alliance
Virtual doesn't lower production value
In one of the recent episodes of his weekly podcast The Road Ahead, AV Alliance board member and founder and CEO of LMG, Les Goldberg talked with fellow event professionals about the initial ups and downs to ultimately making the best virtual events, and of course how these impact our relationships with clients.
As discussed in this podcast, one of the most common challenges that all kinds of businesses and organizations are struggling with right now is the physical distance. When it comes to event technology providers, the same issue exists, with the added pressure of measuring up to, if not even higher standards than we had to before the pandemic hit. What AV companies have learned so far is that it's one thing to create a regular live event, and a whole other thing to make it digital; it "takes the same village" to build the virtual or hybrid event than it took an in-person meeting, the difference is that it's fully or partially done from a distance, which makes production a feat of coordination. As opposed to working closely side-by-side behind the scenes at in-person events, now the team is often physically separated in their homes or offices, sitting in front of multiple screens and operating a range of tools. This new setup requires a lot of patience, imagination, and flexibility, especially because the work that goes into the preparation and production phase is just as complex and time-consuming as it is with in-person events.
Having said that, the question that comes up all too often is: "isn't the production value lower for virtual events than for live events?" The short answer is: no. While some clients expect a drastic drop in production costs, considering the lack of the physical elements that are involved in traditional live event production, in reality the complexity of the work that awaits event production companies when it comes to virtual events is staggering. With unfamiliar territory comes sharp increase in need for rehearsals, and with that comes a lot of extra work. Getting familiar with and learning the required technology isn't only vital for us but for the client as well, who may never have done more than simple Zoom webinars in their lives. Therefore being 150% prepared on show day is vital, which doesn't only mean the technical equipment, but also the long list of virtual components that are happening simultaneously – while being completely at the mercy of the internet connection. Our job is to make sure there are no hiccups – which is yet another great way of building long lasting, trust-based relationships with clients.
As Les Goldberg also pointed out in this podcast episode, great virtual events are nothing like everyday Zoom calls, they more closely resemble a broadcast production. They involve much more than a couple of audiovisual equipment, such as two microphones, a pair of headsets, two cameras, a green screen, some lights and visuals. Great virtual events involve an interactive platform, graphics, video playback, queuing systems, pre-recorded videos, and anything and everything that adds to a complex and powerful virtual experience. Just like in the case of a live event, in order to be happy with the costs involved, clients need to see and understand very clearly that production value in a virtual event comes from the significant added value to the finished product, the increased preparation time, the skill, and the technical knowledge all combined.
(Credit: Smart AV | AV Alliance)
The added benefits of working with the right event technology provider
For businesses, choosing the right AV company to work with is more crucial for their virtual event than it has ever been before. In addition to deciding factors such as getting the best and most suitable platform, technology, equipment, on-site technical crew, and related services (e.g. project management, logistics, etc.) at the right price, clients also have to consider going with the event technology provider which guarantees the best, smoothest online and offline support in a situation that requires a much closer and intense collaboration between client and supplier than what either party is used to. If your organization manages to find the right company to implicitly trust and to work with during these times, chances are that you will not want to do any future event without them even after things go back to normal.
At AV Alliance our members all around the world have been working very hard in the past months to fast-track their companies into the realm of virtual expertise, and even provide – depending on their respective countries' and states' safety restrictions – their own livestream studios with state-of-the-art equipment and an incredible range of technical solutions that meet any client's expectations. What is just as important, however, is that all of our experts come from a place of understanding and compassion when it comes to producing virtual events. Why? Because we have all been there, too, not very long ago.
Having had to learn the tricks of this particular trade at break-neck speed, in the AV Alliance we are fully prepared to guide all of our clients through the complex process of making virtual meetings, conferences, concerts, shows, or even award ceremonies a resounding success, while providing an even higher level of professional assistance. We strongly believe that there is no better time to build even stronger foundations for client relationships than right now, through learning and growing together, and supporting each other more than ever before. This saying may seem overused these days, but that does not make it any less true: we are all in this together.
If you have a virtual event in mind and you need someone to bring it to life, get in touch with usnow!