Credit: Markus Spiske | Unsplash
Hope is a powerful thing, and it is one of the few tools we have at our disposal when it comes to surviving these times of uncertainty. And in business hope is also something we dare not rely on while planning for life after COVID-19. As the future of the live event business is shaping from day to day in front of our eyes, it seems that the worst case scenarios we have prepared for may not happen after all, and if a second wave of the pandemic can be avoided, things will slowly-slowly return to some form of normal. As more and more countries begin to ease their restrictive measures for outdoor and indoor events, that glimmer of hope is starting to grow for live event professionals.
It would, however, be naive of us to think that everything will be as it was before. We know the road we have to travel is long and winding, and that for the next 12-18 months events will not happen in the shape and form we are used to. In recent episodes of his weekly podcast "The Road Ahead", founder and CEO of LMG and board member of the AV Alliance, Les Goldberg was looking for the answers to questions that are on everyone's mind: just what shape and form will our events have to take in the near future? Will they remain mostly virtual, or can they happen in-person on a small scale and still survive?
It is a well-known fact that the majority of business transactions do not happen online but rather in person, whether it's a ballroom, a convention center, an exhibition hall, or a breakout room. "The idea is that when people gather together, they create a certain energy among themselves, which gets people jazzed up and motivated to go out, and roll out a product, or to recognize great performances of people and companies", explains Les Goldberg. However, we have to work with our current reality of virtual meetings and try to engage a virtual audience the same way as we would do in person.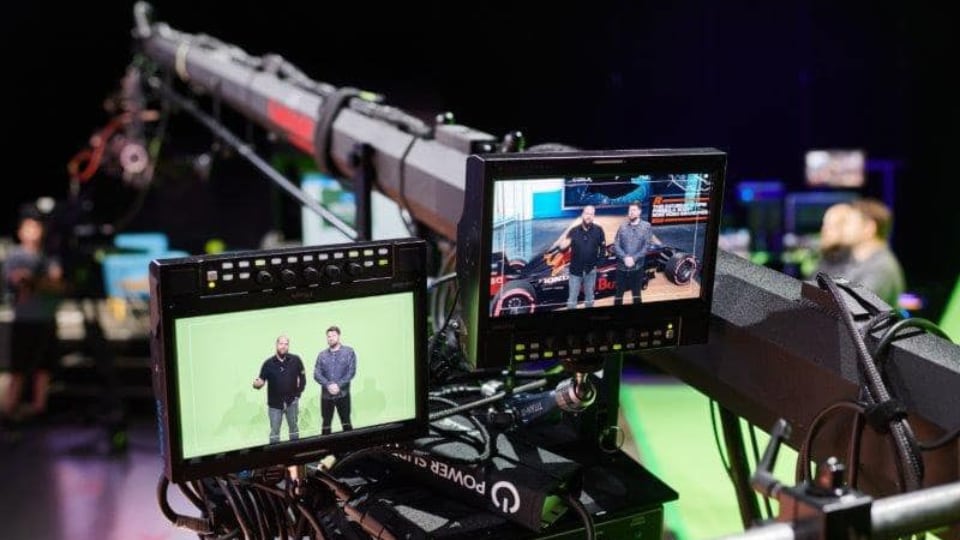 Credit: LMG
Even though we are gradually moving from strict lock-down measures to small-scale in-person gatherings, virtual meetings are here to stay for the long run, and that poses live event production companies an immensely creative challenge. Setting up and organizing a Zoom meeting only takes a few minutes and can be done from the client's side, too, therefore virtual meetings need to have a considerable amount of added value from the production company's side to elevate the client's brand and create a meaningful experience for their audience. Regular free-to-use video conferencing tools were not made for large audiences, and it is much harder to extend the attention span of participants in cyberspace, therefore it has become necessary to elevate online events through technology, creative thinking, interactivity, the integration of live elements etc. in order to provide better outcome and higher engagement.
Remaining solely "virtual", even on a highly professional level can become a problem for companies as we go further into 2020, and of the main reasons for that is sponsorship. Sponsors are not likely to invest big money in online meetings where the personal element is not there to facilitate discussion and business transactions, and that has become a growing issue both for them and their clients. So how can this issue be bridged in the coming months without compromising the interests of clients, sponsors, live event companies, and of course the audience?
The answer you've been looking for is: hybrid events.
via our AV Alliance member Dorier Group
Hybrid events connect one or more studio environments and presenters on a virtual platform, and reach small local audiences that gather in person – or even a global audience – via live stream. Andrea Michaels, founder of Extraordinary Events, pointed out in a recent episode of "The Road Ahead" podcast that in the coming months we will see such smaller events increase in numbers, replacing – if temporarily – the large ones that we are used to. This is not to say that we can expect large corporations, including Google or Microsoft, to go down this route and hold small sized events. There is, however, a method that can elevate hybrid events to a whole new level, and allow clients to connect a number of small in-person audiences across multiple locations, even in different time zones.
David Adler, the founder and chairman of BizBash spoke with Les Goldberg about the so-called hub and spoke method, which allows small audiences of 10-50 people to connect digitally with a main venue that can host around 100 participants. This venue would serve as the central hub for the organizer and the presenters, as well as the main stage, and the live stream of the event would be followed by the smaller groups in different locations. This method can enable companies to host an event of 5,000 people in 500 separate venues that all adhere to the health & safety regulations of any country, and still allow for the intimacy and the personal connection that is the life and soul of any event. This technology can bridge the distance like "Zoom on steroids", as David Adler put it.
There is, however, one factor that event production companies and clients must keep in mind for the foreseeable future: the added value of any event has to be much higher now than it has ever been for people to attend in person. Participants need to be absolutely sure that they get such a high level of content, experience, and value that matches their commitment, or it is not going to be worth it for them to put their health at risk by traveling and being around crowds. It is now the biggest creative challenge for event production companies not only to marry live and virtual, but also to deliver engaging, interactive solutions and added content – even with the help of entertainment companies and musical and spoken word artists – that can elevate these hybrid events and create proper shows that provide unforgettable experiences.
Credit: patrick_schneider | Unsplash
For many industries – and the live event business is no exception – the events that attract the largest audiences have now been postponed for 2021. Trade shows and exhibitions are sorely missed, and are likely to be the last ones to make a return post-pandemic. The pressure to make them worth attending even then will be much higher than for other events, given the sheer number of people that will come into close contact with each other in a convention center, and many already fear that it will be a difficult obstacle to overcome. A large percentage of people who would ordinarily travel for such trade shows from abroad are likely to stay away initially. Making these events partly virtual is a workable solution that can bridge the distance between those who can attend and those who cannot, and this provides clients and sponsors with an unparalleled opportunity to take advantage of technology by making virtual, augmented, and shared realities an integral part of trade shows and exhibitions. Perhaps not just temporarily, but for good.