Credit: Autokino Sommer
If there is one thing we have learned in the past weeks about the nature of the AV industry, it is that it is made of fighters.
Much has already been said about the difficulties that all players of the live event business will continue to face for many, many months to come – after all, they were among the first in, and will be the last out of the global crisis. What is not often a subject of conversation, at least not on the decision makers' level, is the Kevin McCallister of the live event business, the one child in 'Home Alone' that everybody should pay attention to but forgets about until it's too late: the audio visual industry. Small private AV companies and the largest market players alike in many countries around the globe have watched with astonishment, disbelief, and mounting concern as their industry has been swept to the side when it came to government support, financial aid, or at least a general acknowledgement of their impossible situation. In extreme (albeit thankfully few) cases the AV industry is not even considered part of the MICE business and therefore receives none of the coronavirus relief funds that other players have been allocated – yet it is to be seen how live events can happen without audiovisual technology at their core. Negotiations are ongoing, while in most countries microphones remain switched off, loudspeakers are still silent, screens stay dark, lights are out, and entertainment and sports venues around the globe remain empty.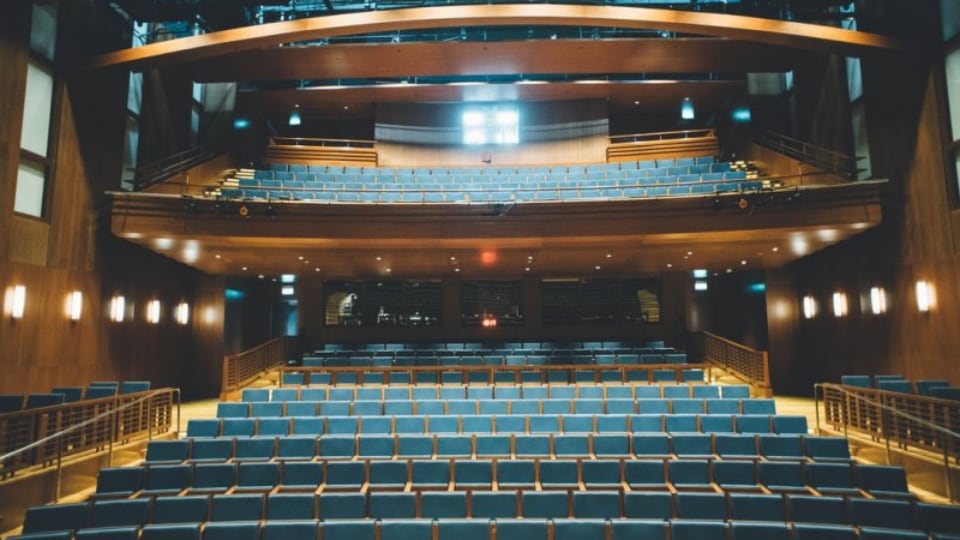 Credit: Chuttersnap | Unsplash
At the moment the situation is still bleak, and the near future of live events is uncertain: when will they return, and in what capacity? When can large international conferences, expos, concerts, festivals take place again, and under what circumstances? And even if they will be allowed to happen, how soon would organizers and audiences have the confidence to attend such events in masses before a vaccine is available, despite the strict safety measurements? While AV companies worldwide are waiting for answers that only time can give, they have switched to survival mode and are now exploring whatever limited options they have to stay afloat until the storm passes. Much like Kevin in 'Home Alone', they are keeping themselves safe and busy by any means available to them until someone realizes that they were left to fend for themselves.
The other thing that we have learned about the AV industry is that it's resilient. At AV Alliancewe have seen the proof on a daily basis. We cannot physically meet with our members, like we do multiple times a year, yet this network, this community has transformed itself into a family more tight-knit than ever before. And we can't help but watch with pride how the members of this global family keep coming up with new ways to do business, new avenues to explore, new approaches to keep people connected, while staying true to what moves them all: creating unforgettable experiences through event technology. And, in many cases, giving back to their community, too. In our next couple of posts we are going to introduce some of these ongoing projects by our members.
Because the AV industry is also endlessly creative.
The renaissance of drive-ins
In the past few weeks a new – or rather, old – trend has been emerging with the reappearance of drive-in cinemas. The concept, which was born in the USA back the 1930s, was immensely popular before the rise of modern-day movie theaters and multiplexes. Now, with the cinema business suffering just as heavy a blow as any other industry, the desire to safely gather and watch films has been fulfilled by drive-in cinemas popping up everywhere. It provides a business opportunity to many, including AV professionals – who sometimes go way over and beyond their traditional field of work to facilitate such projects.
One great example is our Nuremberg-based member sld mediatec, that has recently undertaken a massive drive-in cinema project in the parking lot of Albrecht Dürer Airport in Nuremberg. Coming up with the idea of building the cinema in the first place, founder and CEO Sebastian Kamm took it upon himself to contact the Airport and negotiate the details of the rental contract of the parking area that is now home to the drive-in cinema.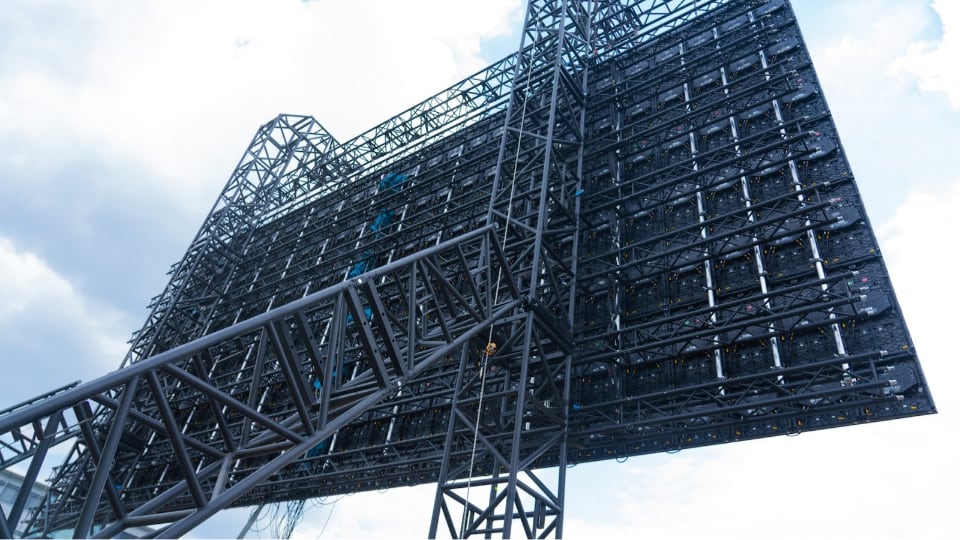 Credit: sld mediatec
Their next challenge was to build a free-standing LED screen of over 100m² (1076 sq ft) and to protect it from any environmental impact. Extensive static calculations were necessary to ensure that this LED screen would stand securely for the next three months. It shows the true essence and spirit of AV Alliance that sld mediatec involved their friends at our Munich-based member LIMELIGHT Veranstaltungstechnik, owned by Oliver Lembke, in the construction of the giant LED screen, because – as they have said themselves – "working strong together in difficult times is more important than having the biggest outcomes".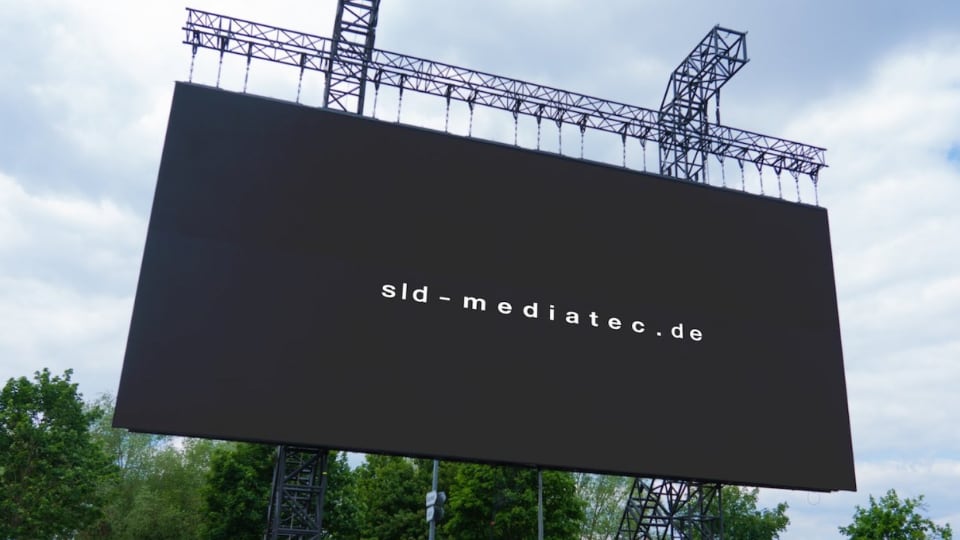 Credit: sld mediatec
Apart from building the structure and the screen, as well as the video control and the sound (supplied through a UKW transmitter, so every car can receive the audio signal via radio), sld mediatec is also responsible for supporting the power supply for both the screen and the on-site catering.
With the support of their long-time partner agency roeschke & roeschke, sld mediatec realized a massive project that now enables an audience of more than 200 cars to enjoy movies, new digital releases and old classics alike, for the summer. If you want to attend Autokino Sommer, however, you need to act quick as all movie screenings for the next several weeks are already sold out.
Meanwhile in Denmark…
It's not just the movies that we miss nowadays. There's the incomparable sensation of feeling the bass thrum in our ears and veins at a live gig, the incredible energy surging through the audience at a crowded concert, but more importantly the live music that fills us with happiness. While some parts of this equation are still far from becoming a reality again, this summer there will be ways to fulfill some of those longings.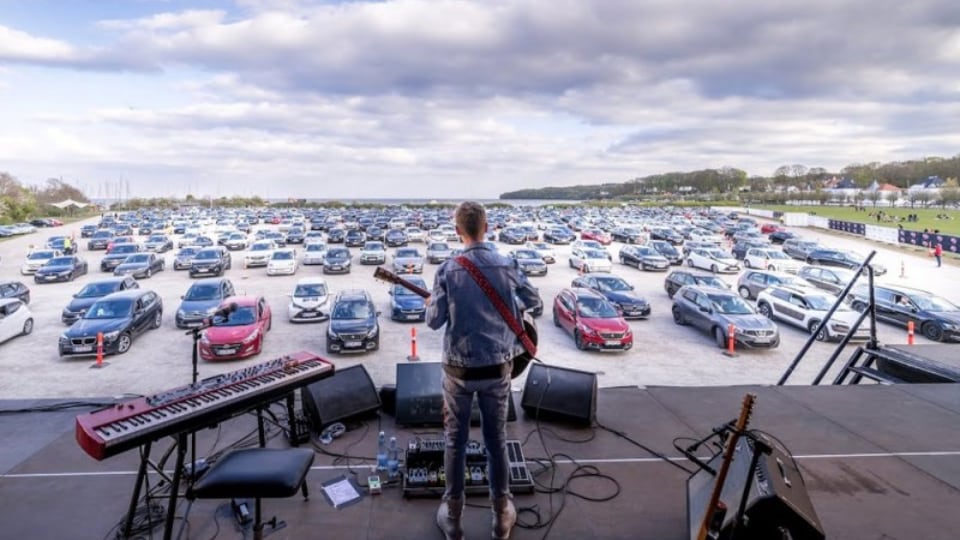 Credit: abc.net.au
In recent weeks Live Nation Entertainment announced that it will be "testing out crowdless live stream shows and drive-in concerts" in a bid to find alternative solutions to continue with live events during the COVID-19 pandemic. Speaking to Rolling Stone, Michael Rapino, President and CEO of Live Nation confirmed that they will hold "broadcasted shows and drive-in concerts during the summer".
Live Nation Denmark's Drive In Live event series kicked off last week, bringing concerts, stand-ups and family entertainment to some of Denmark's biggest cities (Copenhagen, Herning, Aalborg, Odense and Aarhus) throughout the next couple of weeks. As their partner, our AV Alliance member in Denmark, Nordic Rentals A/S is providing every aspect of an outdoor stage set-up: they deliver the stage, LED screens (a main screen of 90 m2 – almost 970 sq ft – flanked by vertical side-screens), light and sound. The sound is mixed in a backstage area and is then transmitted to the audience via FM radio. Safety measures are taken very seriously both during the construction and the operation phase, and the audience is further protected by mobile payment for both tickets and catering services.
Of course, drive-in concerts have already been happening in multiple locations across Denmark, and Nordic Rentals A/S has worked on building outdoor stage set-ups for drive-in venues for the past month and a half, including P Scenen in Aarhus (also one of the locations of Drive In Live), which has already played host to a number of successful drive-in concerts and other live events. It's a heroic job to undertake, especially for an audience of 500 cars, meaning that the sheer size of the stage and screens is worthy of any outdoor festival we have seen.
(Credit: Nordic Rentals A/S – building the stage for P Scenen in Aarhus)
The feedback so far has been very positive: some artists even claim to have performed one of the most interactive and intimate concerts of their careers, despite being physically separated from their audience. While blinking car lights, honks, and waving screen wipes cannot compare to a flesh and blood crowd singing your lines, under such circumstances that we currently live in they surely bring a tear to any artist's eye. After all, the human desire to connect is still the main driving force behind all these actions, whether you are in front of the stage, on the stage, or you are the one who builds the stage. This is what the live event industry is all about, and it seems that no pandemic is strong enough to erase the will to fight and keep the connection and the experience alive.