Credit: AV Media Events
The season of drive-ins is in full swing, even in ways we haven't thought could be possible.
As some countries are ever so gently relaxing their strict health and safety measures and events of smaller scale are finally allowed to take place once again, there is still the question of what kind of gatherings pose the greatest risk to health in terms of the number of people attending them in close proximity. Cinemas and concerts are among those, but let's not forget about religious services and sports games. The latter has already seen a cautious return in some places, mostly behind closed doors with a cardboard cutout audience looking on silently. Many countries will not likely risk filling stadiums with real spectators until there is a vaccine to ensure that no mass infection can occur at such events, and with the chance of a second wave of the pandemic happening later in the year it looks like a reasonable decision. Some may think the idea of drive-ins outdated, unnecessary, or even laughable, but those who need the live experience of their favorite kinds of events take whatever opportunity they are given, and thus a variety of new drive-in solutions has emerged.
In the meantime, virtual and hybrid events have taken off and will likely dominate the rest of the year for many clients, until the first big exhibitions and trade shows will finally throw the doors of the live event industry wide open early next year. Business is returning ever so slowly for audiovisual companies, especially those who have the capacity and the infrastructure to provide full-scale studio live streaming solutions, but what the heart of every event professional truly skips a beat for will always be the live experience. This is why it's not just the need to do business that drives many of our AV Alliance members to explore alternate avenues such as drive-ins for live events, it's the passion to bring people together and recreate those moments and feelings that give them true happiness, be it at a live concert, in the cinema watching your favorite movie, at a football match with friends, at a spiritual gathering, or being around their loved ones. This brings us to our point, which is to give you a glimpse into more great projects that members our AV Alliance family have been doing recently.
Faith
By the end of May India has allowed the reopening of malls, restaurants, and places of worship across the country, with the exception of containment zones. But with the number of COVID-19 cases still on the rise, caution is paramount, and even after two months of having to do with attending online masses, church goers are somewhat reluctant to put their health in danger by attending religious services in person.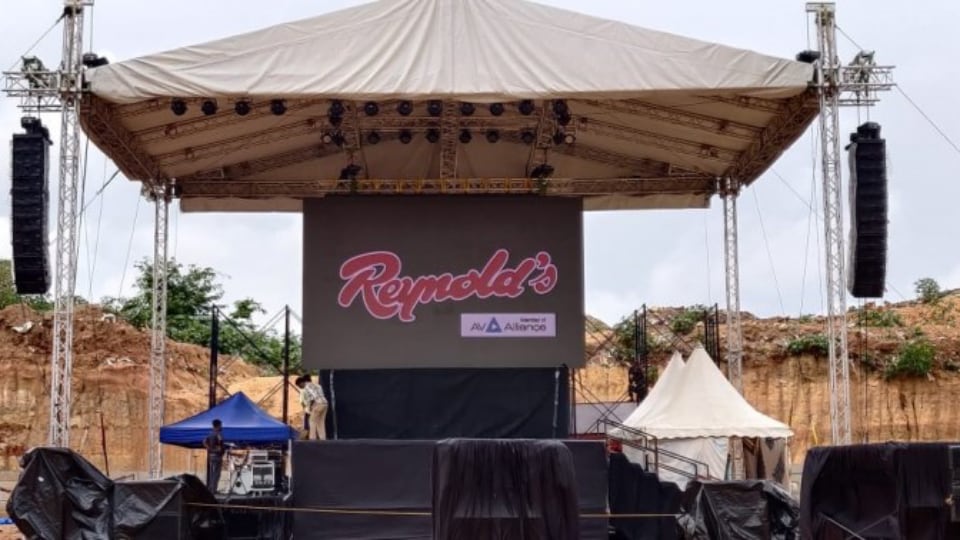 Credit: Reynold's Sound and Ligthing Services
While the local government in the province of West Bengal has in theory allowed places of worship to reopen as of June 1, many still choose not to risk the spread of Covid-19 infections. There are always ways, however, and one church has decided to go down the slightly unorthodox route of having a drive-in mass with the little help of our friends. Bengaluru-based AV Alliance member Reynold's Sound and Lighting Services took on supplying technology – audio, trussing, lighting, and LED Screens – for a Sunday Service for the Bethel AG Church at Hebbal, Bengaluru, which was granted governmental permission to host outdoor services in a 3-acre parking lot.
Worship at the Bethel AG Church officially recommenced on 14th June with two separate services – one with two-wheelers and one with cars – to ensure that proper social distancing measures were adhered to. Beyond that, Reynold's finally got the chance to implement the standard operating procedures that they spent the past months working on with one goal in mind: keeping events safe. These revised procedures cover everything from preparations at the warehouse and ensuring everything is properly sanitized, to providing their entire team with special PPE gear, nitrile gloves, face masks and shields for handling equipment on site.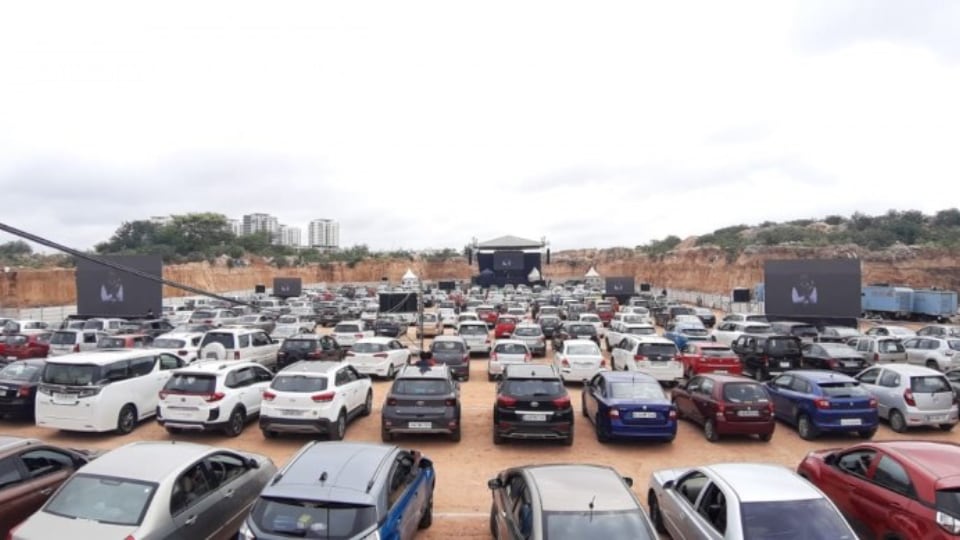 Credit: Reynold's Sound and Ligthing Services
To Felix Remedios, the third generation owner of the family business and founder of the audiovisual technology venture of the Reynold's brand considers this very first post-pandemic event a "divine intervention" after months of not being able to do any business. "This is surely a blessing and a sign that the future will change for the better, as the event industry has gone completely downhill and there is no other way but up," he says, and his faith in the future of the business is something we all need to try and adopt, especially when times are tough. Because without that, we have very little to keep us positive.
Except, of course, the cautious return of sporting events.
Football
Drive-in football (or soccer, as it's called in the Americas) games may have sounded inconceivable for die hard fans, and yet, 300 of them gathered in a drive-in cinema in Prague on the 27th of May to watch their favorite teams play the first match after the COVID-19 restrictions were lifted in the Czech Republic.
While the energy of a fully packed stadium is unmatched for the teams and the fans alike, this time around both had to make do without as the Czech First League resumed behind closed doors, and AC Sparta Praha and FC Viktoria Plzeň battled it out in front of a remote audience in the Strahov district of Prague. While the 300-strong crowd of Sparta supporters were left disappointed by their team losing, the event itself proved to be a huge success and had the distinct atmosphere of a typical football game.
The drive-in "soccer cinema" where the fan event took place is supplied by our Czech AV Alliance member, AV Media Events, who have utilized their experience with open-air cinemas, and offered the use of their LED BDF container, mobile screen and of course high-quality sound to create the perfect experience for their audience. They use three types of solutions for sound: FM frequency, IR receivers for each car to deliver the audio, and tour guide / whisper systems.
In the recent weeks AV Media Events has contributed to connecting people in more ways than just drive-in cinemas, a number of hugely successful drive-in concerts, and remote soccer games; joining forces with the Czech Olympic Committee, our AV Alliance friends also played a significant part in connecting loved ones during a difficult time where families were forced to keep away from their elderly members in order to keep them safe from the pandemic.
Family
The organizers of the Olympijský Festival (Olympic Festival) had prepared a mobile container with educational content, originally intended for the duration of the Tokyo games that were supposed to take place this summer. However both the Olympics, as well as the festival were moved to 2021, so the Czech Olympics Committee decided to have a their trailer converted and, based on an idea that originated in the Netherlands, use it as a (literal) vehicle to solve the months-long separation of the elderly inhabitants of the Říčany Senior Home.
The trailer was modified in a way that it would adapt perfectly to the strict safety measures of making such a meeting between family members possible: the interior was partitioned with a plexi glass wall, which allowed visitors to meet their elderly loved ones following the lifting of the strict visitation bans. To make sure that poor hearing did not stand in the way of these heartfelt reunions, AV Media Events took care of the audio system as well, supplying not only microphones through which family members could communicate from each side of the partition, but also ready-made headphones for seniors with serious hearing loss. The family members entered through two separate entrances, so that direct meetings could be avoided between them, and of course the interior of the mobile container was disinfected after each use.
Be it faith, football, or family, the AV industry, and especially the AV Alliance is making sure that we do not lose our most important, defining moments of connection even in hard times like these. We are sure that this kind of resilience, dedication, and adaption to the circumstances is paving the way for the most spectacular and cathartic experiences once the live event business returns in all its glory. If it's up to our AVA family members all around the world, rest assured that this will be the case.