IntelliEvent is a leading software provider for event, rental and production businesses.
Our flagship product, the cloud-based Lightning, provides a single platform our customers can use to run their entire business. Each and every feature in the Lightning system has been developed based on requests and feedback from our user base. These features, listed below, provide a comprehensive system that can manage every element of an event-based business:
Full CRM.
Keep track of client records and build stronger relationships with current and future customers.
Real Time Inventory Control.
Know where your inventory is at all times, including availability calendars and up to date information on items.
Customizable Quoting.
Quickly start new orders, create and send quotes directly from the system.
Accounting and Invoicing.
Including Quickbooks integration, local tax calculations and credit card integration, all to help establish a seamless workflow.
Global Labor Scheduling
Schedule out labor to properly resource projects by specialty and individual. Plan out resources and have calendar visibility on resource workload.
POs and job costing.
Over 200 Management Reports.
Gain insights on your business and its profitability with up to the minute metrics dashboards and reports.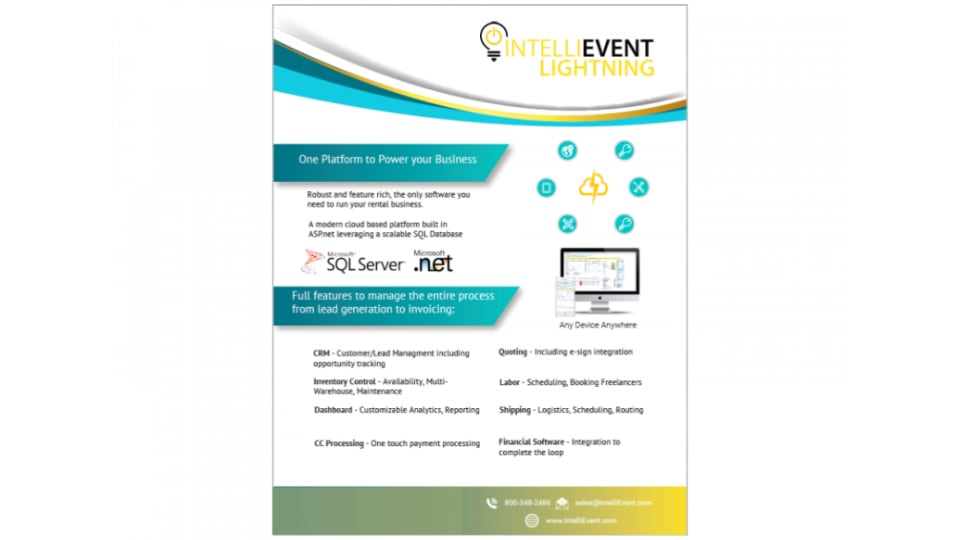 Along with an updated user intuitive interface and cloud-based accessibility, our customers use Lightning anywhere, anytime, and with any device to stay connected in the office or out in the field.
About IntelliEvent:
Since 1997, thousands of event industry leaders worldwide have experienced IntelliEvent's award winning products and services. As the trusted leader in business management software, IntelliEvent provides robust web solutions to help businesses connect more deeply with customers and unlock greater potential for innovation and growth.
Industry leaders recognize the benefits of cloud computing and the security and convenience of data saved in the cloud. The IntelliEvent Lightning cloud platform provides a secure data connection and the convenience of mobile access that allows your team to sell more, grow faster and close anywhere.
As part of implementation with IntelliEvent, you can look forward to:
Straightforward data import/export
Accessible and knowledgeable support team across all time zones
Intuitive, easy to use design
Dedicated training including in-person, video and over the phone
A long term partnership with shared success!
Samples of the event based business we serve include:
AV, Lighting & Staging
Special Events
Events, Tents & Party Rentals
Universities & Venues
For scalable software solutions that will improve your business, contact IntelliEvent today.
Contact:
Andrew Ehler
GM, Vice President of Sales – IntelliEvent
560 Fremont Street, Monterey, CA 93940
[email protected] or (800) 348-2486