The Best Software for Equipment Rentals, Labor &Transportation Scheduling
Providing you one software to manage your equipment rentals, labor planning, transportation scheduling and repair management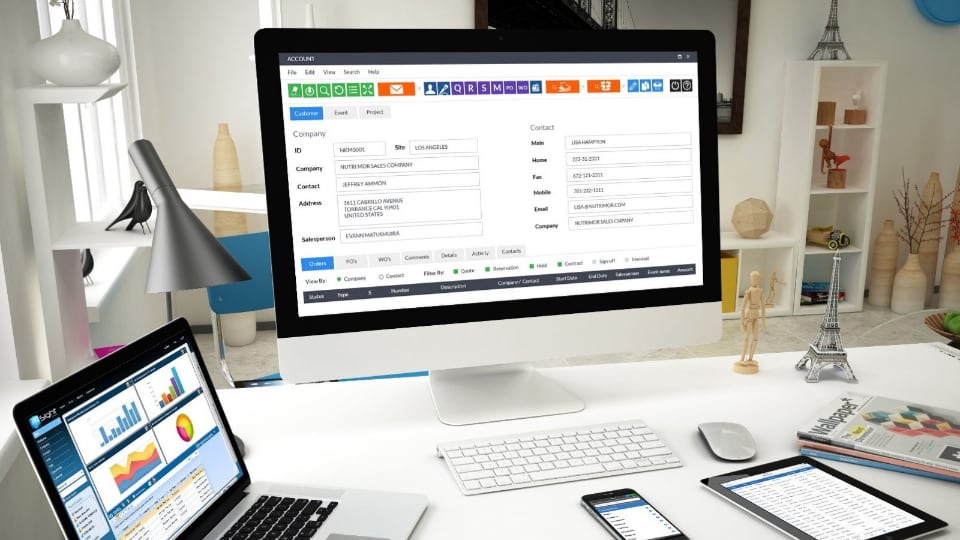 Our software is developed with collaboration with leading and well-respected AV companies from all over the world. A flexible, user definable solution that can be configured specifically for your company. Our software provides the following key benefits for any AV rental company:
Easy and Simple – your team is live in hours.
Simplify screens and only see functionality and fields relevant to your operations.
Fast – open orders with hundreds of lines in seconds.
Key operational benefits
Real Time Equipment Availability Across all your locations
-Know status, location and future availability of equipment.
-Maximize physical and financial utilization of owned equipment.
-Graphical Planning module to maximize use of owned gear.
Integrated Labor Planning module
-Communicate and track all communication with resources
-Track Labor Gross Margins from Planning to Job Completion
-Manage per-diem and travel costs within the system
-Native iOS and Android App for resources to communicate and enter times worked
Minimize equipment repair costs and turnaround time
-Auto generate service tickets with preventive maintenance schedules.
-Keep detailed audit on repair costs and break-down patterns.
-Invoice customers for damages, if needed.
Schedule drivers and trucks including e-signature.
Web based dashboard with customizable widgets offering real time snapshots of operational data 24 X 7.
Multi language and currency
-Use the software in a language and currency of your choice and send out information to customers in a language and currency of their choice.
Business conditions and rules for critical alerts
-Have the software reach out to you, rather than you having to search for relevant data.
-Customize as per your specific operational requirements.
Custom reporting and schedule report distribution
-Create and generate custom reports as required for your business.
-Have the reports delivered on a pre-determined frequency to selected staff.
CRM Module
-Integrated with R2 so all data updated electronically.
-Checks for duplicate accounts.
-View R2 quotes, orders and invoices for status and repeat business.
-Sales forecast and revenue generation reports.
About Unique Business Systems (UBS)
UBS has been providing and supporting rental management software for over 34 years.
Headquartered in Santa Monica, California, USA.
R2 is our 3rd generation software tool for rental business.
We have 4 support offices worldwide with 24 X 7 customer support.
The R2 team provides complete product training along with industry best practices to maximize your potential.
We have over 650 companies running R2 in over 30 countries.
Contact:
Vic Khosla
VICE PRESIDENT
BUSINESS DEVELOPMENT
UNIQUE BUSINESS SYSTEMS
12304 Santa Monica Blvd, Suite 214 Los Angeles, CA 90025 USA
[email protected] (310) 396-3929 Ext 173, (310) 864-9498 cell