Courtesy of satis&fy, credit: Anna Imm Photography ©
What if we told you it is possible to host real live events during Covid-19 that still comply with every health and safety requirement? The event industry is ready to step up, and here is how our AV Alliance members have done it!
Ask anyone in the industry, and they will agree that without live events the sector will never regain its full potential and profitability. While the will is as strong as ever from the technology providers' side to get back into the live business in a safe and responsible manner, there is still a lack of confidence from authorities and, consequentially, clients that cannot be disregarded.
The event industry, however, is resilient and resourceful, and does not give up easily. While in many countries hosting any kind of live event is still a distant promise on the horizon, other parts of the world saw a wide range of creative solutions that have been aiming to bring back the live element to events since March. While strict safety measures, capped attendee numbers, social distancing, and a general sense of cautiousness mean that there are limits to what can be recreated from the pre-Covid experience, the intent has certainly been there to try.
In the meantime, there are companies around the world, pioneers if you will, who have been working tirelessly to resurrect live gatherings without being too constricted by the ghosts of events past. Here we introduce you two prime examples – both from within the AV Alliance – that were brought into life with the aim to show that live events can indeed be hosted while still adhering to all necessary health and safety measures. While the road to crammed stadiums and fully packed conference halls is still long, these first cautiously planned and bold steps in the right direction may soon provide a working alternative for struggling event companies beyond hybrid solutions.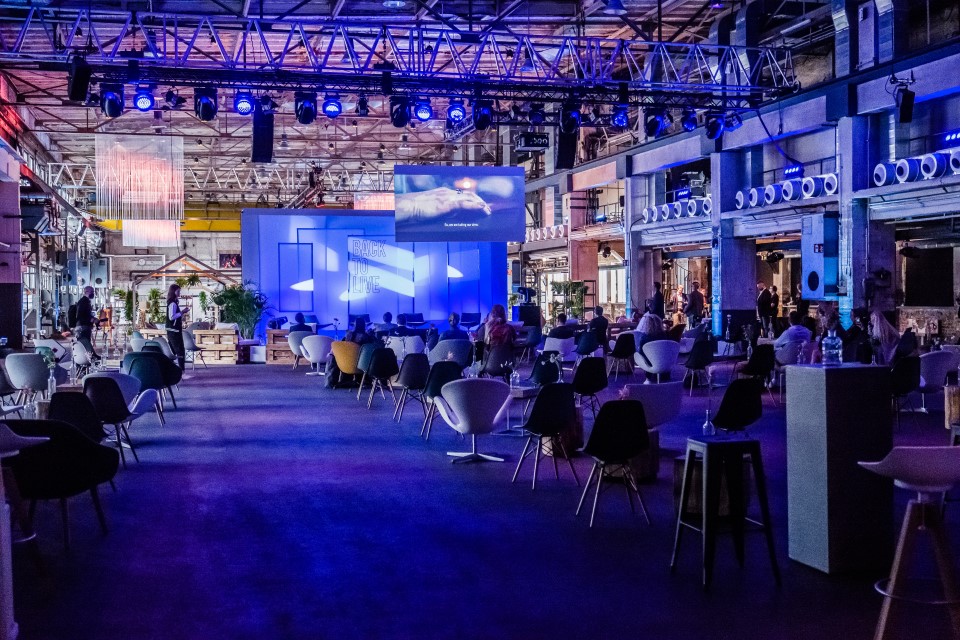 Back to Live in Germany
Our AV Alliance member satis&fy is known for being among the first to take action and find a resolution to difficult situations: the company is one of the initiators and relentless supporters of the massive Alarmstufe Rot campaign that is fighting for financial aid for the local event industry on both federal and state levels, and at the same time it has constantly been working on its own initiative to reboot live events. While most companies have been forced to switch to virtual events due to the crisis situation and the resulting demand for digital solutions from clients, satis&fy firmly believes that virtual cannot be the only way to ride out this storm. From the moment the coronavirus crisis hit Germany, the company has been working on creating a concept that caters to the very human need for live experience and personal contact and, at the same time, complies with every health regulation, as well as the event safety measures determined by the Research Institutes for Exhibition and Live-Communication (RIFEL). This concept has been aptly named Back To Live.
According to satis&fy, event safety can be achieved through a number of steps taken by the organizers and the venue, such as visitor tracking, visitor guidance, adaptive room layout, enhanced hygiene and catering. To that end, after months of careful planning the first Back To Live event for around 350 attendees took place on June 9th in satis&fy's partner event venue Fredenhagen in Frankfurt, demonstrating that safe events can be successfully carried out with the right precautionary measures.
After registering online prior to the event, attendees' accreditation upon entry was made safe by using hygienic partition walls and digital thermometers. The venue was equipped markings and signage in social areas to remind attendees of keeping safe distance and hygiene requirements. A traffic light system was also installed to help guests navigate the venue and maintain minimum distance. In addition, surfaces were continuously sanitized, and disinfectants were available in various locations. Even under the strict Covid-19 regulations that had to be adhered to, satis&fy still managed to deliver an emotionally appealing live experience, and thus position themselves as credible advisors to state governments in Germany.
Credit: satis&fy AG
The Back To Live concept has proven that safe gatherings are still possible, if organizers take the following steps:
applying flexible solutions for event implementation, e.g. tracking solutions
the venue ensuring that distance regulations can be adhered to
limiting the risk of disease transmission by hygiene measures
working with an event company that has in-depth knowledge of the legal framework as well as the health and safety regulations
coordinating admission and dynamic crowd management
employing certified hygiene specialists
working closely with health authorities
utilizing technologies that help reduce the risk of infection
alternatively, testing all participants for Covid-19 prior to the event
Encouraged by the feedback from the participants and the media, satis&fy was eager to go one step further with a business event scheduled for July 17, where 250 people would have attended the meeting without any social distancing, but with a negative Covid-19 PCR test taken on the day of. While in the end this event was postponed, discussions about the possibility of such a feat between the state government, health authorities, and the organizers are ongoing.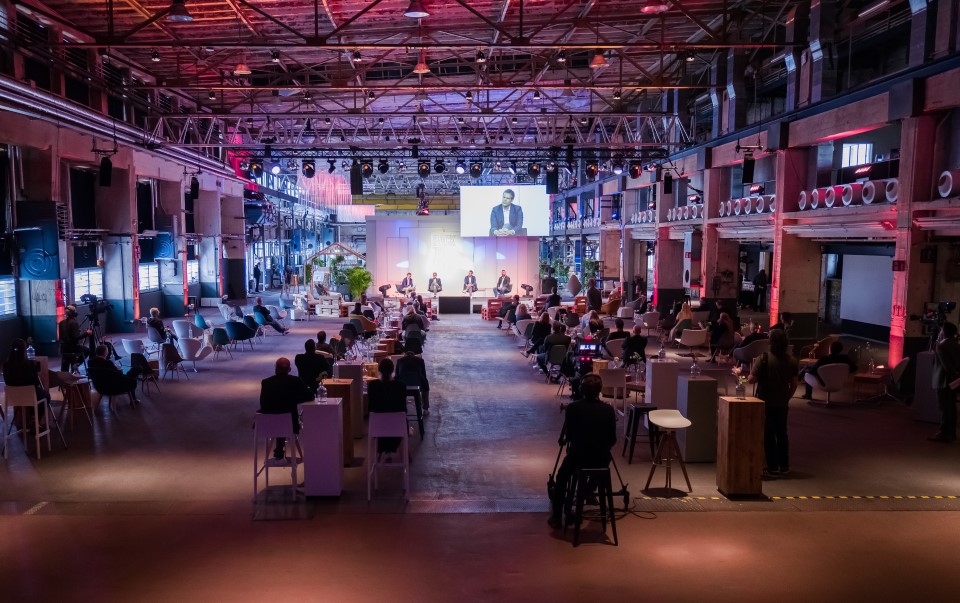 Budapest leaves the virtual space
Live events hold a special space in everyone's hearts, and have the power to uplift, unite, and move people, and to create memories that last a lifetime. The Power of Live Events initiative, originated by our Hungarian AV Alliance member Special Effects International together with Visual Europe Group, launched with a 17-week online marketing campaign that aimed to draw attention to the event industry's difficult situation caused by the coronavirus pandemic. After it began in mid-May, the campaign was joined by event companies and organizations – including the AV Alliance – from 25 countries.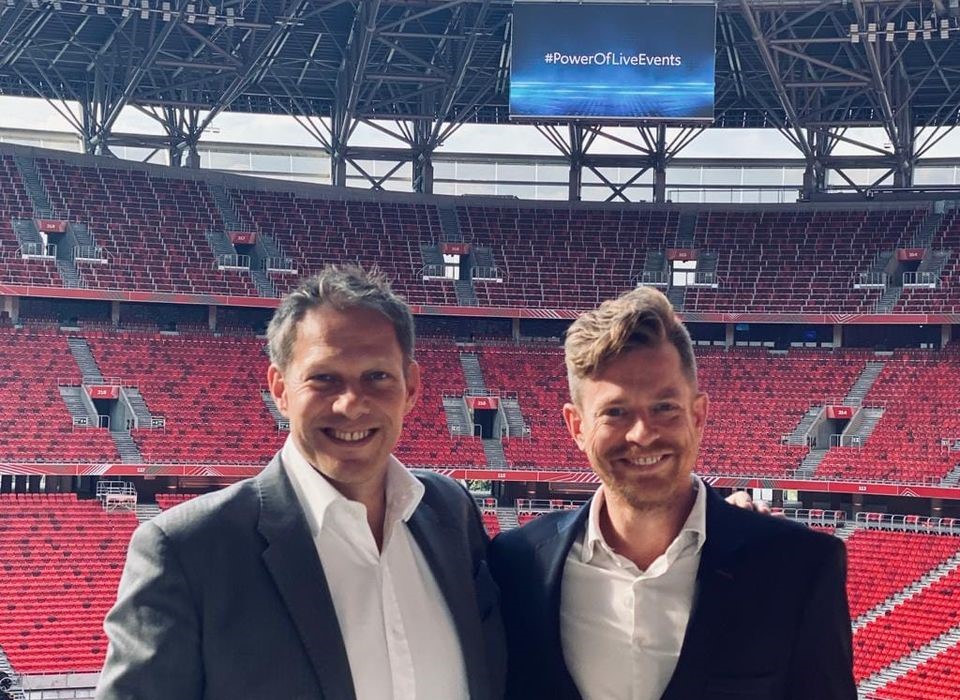 The Power of Live Events campaign, which was to culminate in the shape of a live event on August 15 but was postponed due to Covid-19 restrictions, finally concluded on September 10 in an all-day meeting in the conference hall of the new Puskas Arena. The event, which was the result of an industry-wide cooperation and the support of the newly-formed Budapest Convention Bureau and the Budapest Festival and Tourism Centre, had over 300 people in attendance – keeping in line with both the 500-persons limit restriction, as well as with every mandatory Covid-19 safety measure.
Among other safety measures, disinfection gates and built-in digital thermometers upon entry, regularly disinfected chairs, tables and microphones, as well as individually packaged lunch packages ensured the safety of the participants. In addition, colored armbands were distributed in order to indicate to fellow attendees if someone wished to keep a greater distance from others. One of the aims of the event was, of course, to demonstrate that by creating the right conditions and involving a well-prepared organizer team, it is possible to organize MICE events for even hundreds of people in Hungary, while still adhering to all health and safety regulations.
The other purpose for the day-long conference, which featured both Hungarian and international speakers, was discussing topics that are currently at the forefront of every event professional's mind: the revival of the market, best practices in crisis management, trends and challenges in the present situation of the event industry. In addition, the conference explored in detail the important role that Budapest as a key MICE destination is playing in the region, event safety protocols during and after the pandemic, as well as a range of strategic steps that would help the struggling event sector. The meeting was followed by outdoor events and concerts in different locations around the city, and while these days the event industry is being associated with red lights, the landmarks and event venues of Budapest were lit up in blue as a symbol of hope for the sector.
Credit: Special Effects International
"With their different tools, digital events may partially support some corporate goals, but they are not up to par with live events in terms of doing business, engaging and retaining employees, or creating experiences. We also managed to prove to the professional audience and corporate partners attending our conference that, with the appropriate precautions, a live event for hundreds of people can be held safely in the current situation" – says Zsolt Kassai, CEO of Special Effects International and one of the initiators of the Power of Live Events campaign.
The event industry is ready
Every couple of decades external forces of sometimes incomprehensible magnitude shake up the way we live and work, and this pandemic is no exception. But if there is an industry that can rise out of the ashes that the coronavirus has reduced it to, is the live event business. It is ever-changing, constantly improving, and famously flexible, and has always been. It is not meant to stay static and not move with the times and new technologies – but it is meant to be live. The first bold steps have already been made towards that end, and the event industry is ready to get back to business. With more and more positive examples such as the above by our AV Alliance members, there is a hope that authorities in many countries will work with event professionals on solutions that can lead the sector out of the limbo it has been forced into.