At AV Alliance we are fiercely proud of our members' rich histories and years – in most cases decades – of expertise. Some companies in our network, however, have much longer time to look back on than others. This year, on January 21 to be precise, our Colorado-based member CEAVCO celebrated its 60th anniversary, and it is a huge milestone to be commemorated – especially after the toughest years this industry has faced in recent history.
We sat down – virtually – with Matt Emerson, President of CEAVCO, to talk a little bit about his family's business, the year 2020, and of course the future.
But before we do that, we need to begin with the past. John "Jack" Charles Emerson, a life-long lover of the ski slopes of Winter Park, moved from Pittsburgh, Pennsylvania  to Colorado with the intention to create a business for himself, and "build a company that would stand the test of time". Around the time he founded his business, a great deal of federal funds was allocated for education, and with the goal of enhancing the level and quality of education, schools were investing in audio visual equipment. Jack saw this as a good business potential, and thus CEAVCO was born on January 21, 1961.
Believing that surrounding himself with the right people was the key to success, Jack set out to do just that with CEAVCO. As he used to say, "a great place to work attracts really good people, and really good people attract customers." It never was a secret that the solid foundations of his company were built on Jack's core values – such as service, accountability, integrity, and passion for a job well done – and these values were transferred to his children from a very young age.
Matt Emerson cites honesty and integrity as the most influential values that shaped his personality as a child. When Matt joined the family business, the father-son duo also established a fun but honest working relationship that was built on complete trust and transparency. These are, to this day, among the main characteristics of CEAVCO's operations, as any client or employee that has worked with them will tell you.
Jack hired Matt as CEAVCO's VP of Finance in May 1989. He became the 15th employee of the company that back then primarily sold audio visual equipment and had a two-person rental department. Of course, these days they no longer sell AV gear, and equipment rentals have become a much smaller piece of their business, as CEAVCO has always operated by Jack's vision and principle of adapting to changes in the industry. In 2003, Matt became executive vice president. When Jack retired from the business in 2013 as President he passed the mantle to his son.
Unbeknownst to him, Jack's vision would become as crucial in CEAVCO's future in 2020 as it was back in the 1960s: "You have to be ready to adapt to changes in the marketplace and changes in technology." The company managed to achieve that by hiring people who were very much into the audio visual business and were also interested in success. In response to the challenges of 2020 but with the same passion for the AV industry, Matt and some of those very same people asked the hard questions about how they could pivot the business and provide value to their clients while empowering them to achieve the outcomes they seek.
CEAVCO was one of the many AV Alliance members that quickly recognized the opportunity lying before them; the company now offers virtual event platforms and has built two world-class virtual studios, adding a depth and breadth of new skills to their repertoire. For clients old and new, CEAVCO has been producing exceptional pre-recorded and live-in-studio town hall meetings, keynote presentations, panel discussions, award shows, fundraisers, concerts, performances, and workshops.
Even though the company has much transformed over the past 30+ years, especially during last year, there are some things that have not changed throughout CEAVCO's history. Their dedication to sharing industry knowledge, providing exceptional support to their valued clients, and cultivating the relationships with customers old and new. Matt says, "though it may sound clichéd, we do everything we can to help our clients meet their objectives. That's our niche and our passion."
After all, "entrepreneurialism is about identifying a need and fulfilling it", and Jack, who sadly passed away in 2018 at the age of 91, certainly had a lifelong reputation for honoring his entrepreneurial vision and doing the right thing. That responsibility now rests on his son's shoulders, and those who know Matt will tell you in a heartbeat that for him doing the right thing comes naturally. Having inherited much more than just Jack's passion for skiing, Matt takes pride in the values that his father instilled in him and in carrying on with his legacy.
During this unprecedented time in the history of the event industry the pressure that AV company owners have been under is quite staggering. While everyone expects leaders to "do the right thing", it is not always clear what the right thing to do is in what can only be described as a life-or-death situation for businesses. In many cases it also involves making a series of hard, painful, and mostly unpopular decisions. We were curious to learn how CEAVCO managed the hurdles that came with having to make such decisions.
You mention honesty and integrity as your core values that you had learned from a young age from Jack, and those characteristics are clearly very much part of you. Has it been difficult to keep the same level of honesty and transparency that you always had with your team during the crisis?
Matt: Not at all. In fact, I think that times of crisis call for the highest levels of honesty and transparency. People are smart and perceptive. They notice a lot and are aware of what's going on. In March of 2020, our team knew that things were bad and getting worse. I think that our team appreciated how honest and transparent we were with them about the situation and how we were addressing it.
Seeing your thriving business being derailed by something you have no power over is a hard blow for any company owner. What were the things that you have been able to draw strength from the most to keep pushing forward?
Matt: Knowing that it's not my fault. That we are doing everything that we can for the team and our clients. Also, it has helped to be very clear about our goal to survive the pandemic and to be of service to our clients today and into the future.
This past year CEAVCO certainly followed the principle of adapting to the changes of the marketplace and technology. How challenging was it to build up the digital/virtual production side of the business in such a short time?
Matt: Building our first studio was pretty easy. Sure, we made some mistakes that we corrected when we relocated it. But the studios include all the technology and many of the practices we mastered long ago. Figuring out the platforms and workflow were very challenging. I'm super proud of the work the team putting into exploring the options and mastering new skills.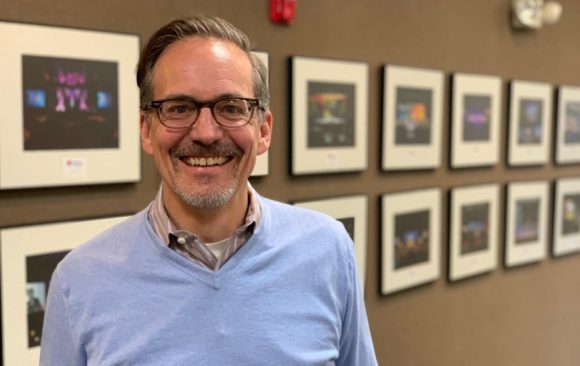 Matt Emerson, President of CEAVCO
What were the highlights of the past year, if any, for you business-wise?
Matt: For sure there were highlights! We built relationships with lots of new clients whom we hope to continue to work in virtual, in-person, and hybrid environments for years to come.
For you personally, ensuring the survival of your family business and Jack' legacy must have been the goal in mind during this crisis. What do you think he would say to you now, seeing how you have risen to that challenge?
Matt: I think he would tell me that he was very proud of me and the team, especially.
Like Jack, Matt also resides in Denver, Colorado with his family: he and his wife Lisa have two daughters. We were curious as to what Matt would say if either of them decided to join CEAVCO in the future, and what he would say to them? 
Matt: The event production industry has been great for me. I've had an extremely rewarding career and built many, many amazing relationships. Make sure that you have the stomach for the business cycles and that you see ample opportunities to fulfill your career passions. Join the business only if you're convinced it's what you want to do. Don't do it for me.
Is the event business going to return to its full glory in the next decade, and be a viable career option for young people?
Matt: I think that the industry will return far sooner than that. People are social beings and so much of the value of attending a conference comes from the networking, the chance encounters, the conversations during breaks, at the bar, and over a meal. People will go back to in-person events as soon as they feel safe doing so. We will get there sooner rather than later. Our industry presents amazing opportunities for young people. They get a chance to amaze and delight audiences and make a difference to clients. Every position presents opportunities to learn new skills and advance.
His father's original vision from 1961 has clearly remained at the core of CEAVCO's ability to adapt to changes in the marketplace and deliver the support and value their clients need, even during the year 2020 and beyond. Having celebrated their 60th anniversary in a socially distanced way but certainly with enormous pride, CEAVCO is definitely carrying on with Jack Emerson's entrepreneurial spirit.
We at AV Alliance wholeheartedly wish Matt and his team continued success, and at least 60 more years of making their clients' visions a reality and shaping the future of the event industry!