The new and improved AV Alliance website represents who we are and what we stand for better than ever. It is now a fitting showcase for our premium members and technology partners in every part of the world. Just as importantly, it has been designed to work for you and your event.
If there was one thing that businesses had an abundance of in 2020, it was time. Time to take a good look at how they operate, what tools they have in their belt to maximize productivity and minimize losses, and what opportunities they have to generate business. In addition to that, many companies took this unprecedented "break" from the daily grind to turn their marketing strategy around, and elevate their brand online representation, for instance, in this increasingly virtual environment.
Similarly, for us at AV Alliance 2020 was a year busier than most, and brought on important changes that will shape the organization's future for years to come. We welcomed a new General Manager and new members on board, and elevated the alliance's internal operations to a whole new level. From expanding our marketing activities to strengthening the bonds that tie our network together, this year has been all about building a stronger foundation to support our members around the world.
One of the most important projects of the past year has been the creation of the AV Alliance website, which we rolled out just recently and have been perfecting ever since.
A website working for you
The purpose of the new AV Alliance website is not only to represent us, it is to serve you better, and guide you through the somewhat changed landscape of event planning and production. With many event industry segments in crisis and new, unfamiliar technologies abound, our members have stepped up their game and are ready to take on more complex tasks and roles to ensure that you and your event needs are taken care of just as smoothly as – if not even more so than – before 2020.
While our website is a treasure trove of information when it comes to the inner workings of event technology and all its related services. Here we give you an insight into who we are, and how we can help you when it comes to selecting the provider that is the best match to your event requirements!
Meet our team
At AV Alliance we strongly believe that personal relationships are one of the characteristics of truly great business partnerships, and we strive to build such relationships and trust not only between our members – a true global family! – but with our technology partners and business associates.
In this section of the AV Alliance website we would like to introduce ourselves personally; those of us who are working at and for the network – from the marketing and operations team to the Board of Management, comprised of company leaders within the AV Alliance, elected to represent us by the members.
Learn about our story and our values
For the past 8 years the AV Alliance, founded by Simon Ackermann, the owner of our Zurich-based member company Habegger AG, has become synonymous with the highest – Swiss – quality standards that the organization operates by in the live event and entertainment industry, and based on which our carefully selected members do business.
All of the AV Alliance members stand by the same values – such as fair pricing, ethical operations, employing the best people in the business and using the best available equipment. As a result, we provide consistently high quality services all around the world. You can read more about what makes the AV Alliance so unique here.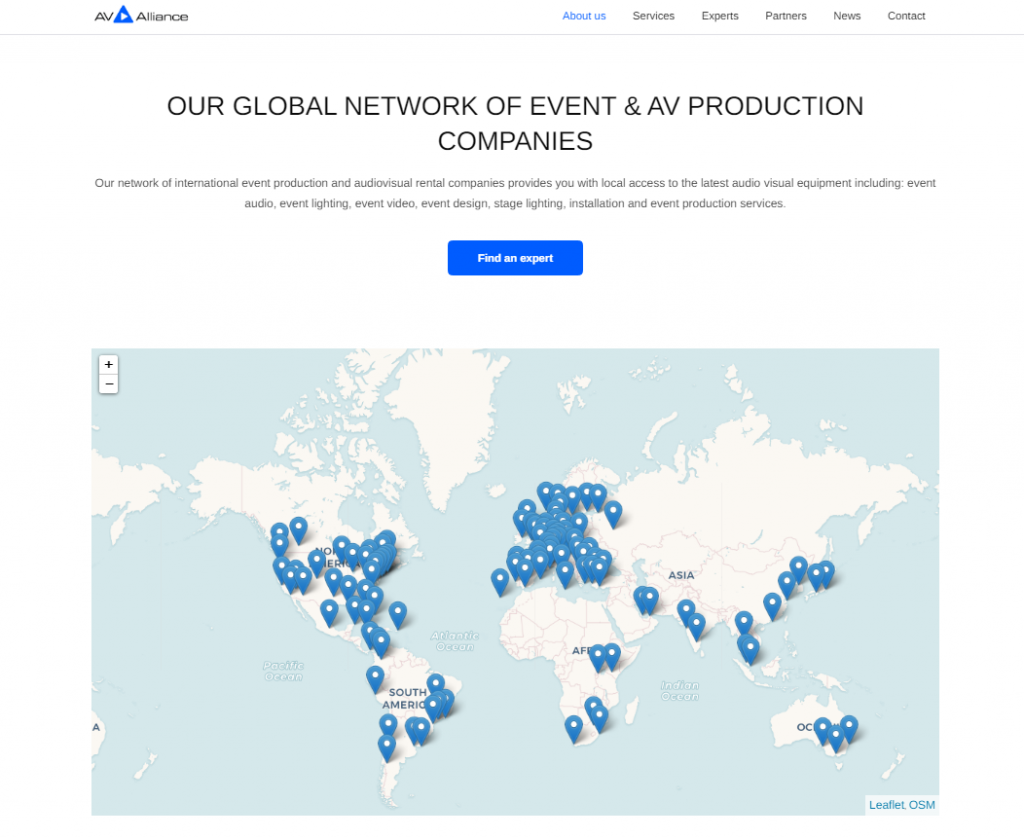 1. Save through reduced logistic costs! We are present in 106 locations in 50 countries. Due to the collaboration of the close-knit network of the AV Alliance, we are able to provide you with the same high quality AV and event technology equipment locally – without having to transport them all the way and thus considerably saving on logistics costs and carbon footprint!
2. Hire the best gear, wherever you are! With a combined warehouse space of over 350,000 square meters, we guarantee that you have access to the best equipment available in the market in any country our AV Alliance members are present in!
3. Get local know-how and global experience! Thanks to the shared expertise of our global network and the intimate knowledge of local venues, suppliers, and clients, our members are ready to give you the best of two worlds, wherever you choose to have your event!
Learn about our services
The world of event technology is easy to navigate on the surface. For those who are not in the AV business, however, it can be daunting to understand what the different services provided encompass exactly, or what a stunningly wide range of solutions and technologies there are for clients to choose from for their event.
This is why in this section of the AV Alliance website we provide you with an in-depth look into the different types of services our members are able to offer you. Illustrated with visual content, we also showcase the relevant products by our technology partners that the AV Alliance members use. Wherever possible, in the future we will include links to real-life showcases from our global network, too.
Find out more about our members!
We have spent countless hours on developing and enhancing this section of our new AV Alliance website! We filled our members' individual profiles with content that best showcases their capabilities, philosophies, and project portfolios. In many cases we also provide a more personal glimpse into what makes their teams and their work unique.
The new and improved contact forms that we introduced on each of our members' pages make getting in touch with them easier for you!
While you are at it, you can also take a look at the profiles of our official technology partners, whose products and solutions are in most of our members' inventories!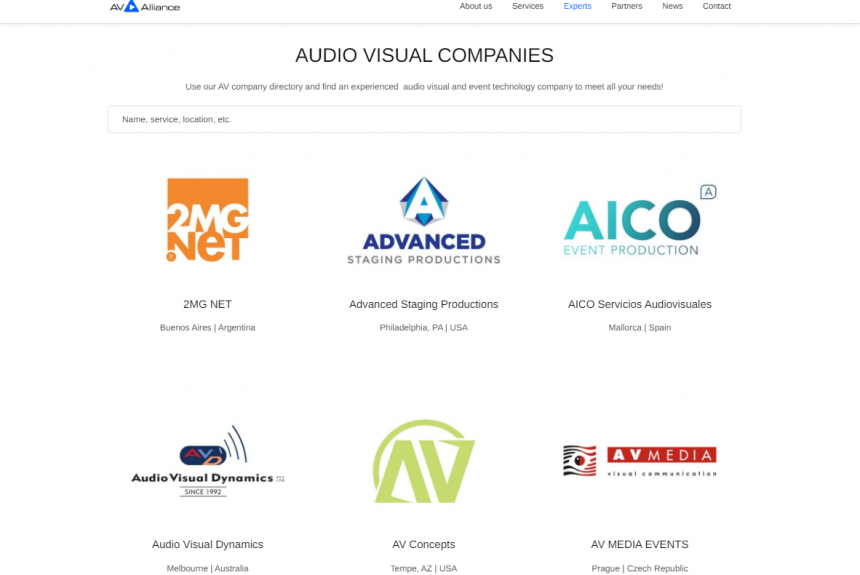 Catch up with our news!
You can now read new content on our website every week; we regularly cover the current situation of the event industry, our members' activities and unique projects, as well as personal stories in our blog, while continuing to report on AV Alliance news.
We have new features available, too. For instance, for the first time you can now keep up with our stories by subscribing to our RSS feed and to our newsletter. In addition, we have our brand new and constantly updated press kit for media use available for download.
"I have an event coming up, how do I find a supplier?"
Here is how we can help you find the AV and event technology provider best suited for your needs!
1. If you know your exact event location, you can take a look at our map to see which AV Alliance member company is located the closest geographically.
2. Alternatively, you can visit our AV company directory and search by location (e.g. city, state, country, region, continent etc.) among our members. You can also use the search function to find an AV provider by name, service, or keyword!
3. To inquire about a member's services or ask for a price quote, type your message into the contact form and send it directly to the person who is responsible for handling such project requests.
4. Be as specific as you can regarding the details of your event (e.g. date, location, venue, type and purpose of the event, number of expected attendees, dates of set-up and tear-down, types of services needed, any specifications for equipment, deadline for a quotation, etc.)! Don't forget to also specify whether it will be a live, hybrid, or fully virtual event.
5. In case you are missing key information about your event, or you are not quite sure what you are looking for in terms of services, just let our member know and they will work with you to come up with ideas and solutions together.
6. Do not be afraid to rely on the creativity and flexibility of our members when it comes to planning your dream event!
7. Should you have any trouble with finding solution provider for your event's location, or you need recommendation from us, don't hesitate to get in touch via [email protected]. We are happy to help you identify the AV company best suited for your needs!
While the world is slowly beginning to come out of its mandatory standstill, we already have one foot ready to hit the gas. Those event industry players that survived the economic crisis brought on by the pandemic are coming back with more dedication than ever before, and our members at AV Alliance are only waiting for the word to make your events a reality once again.
We are ready when you are!