Photo credit: Luis Duque, Eurotruss
These last weeks of summer are – or in most cases would be, were it not for a global pandemic – the peak festival season for many countries on the Northern Hemisphere. While we dream of music blasting from massive stages set up in the middle of vast fields, let us reminisce and also set the, well, stage for next year's events by diving into the exciting world of rigging and truss, the physical backbone of many an event.
We have all seen the results of rigging during our lifetime, and in more places that we would think! Just to give you an example: the lights hanging on the ceiling, walls, and dancing over the faces of the crowd during events and live concerts are crucial for illuminating the main act on stage, while also adding color to the entire event. Well, without stage rigging, such brilliant light show display would not be possible. In this article we will cover a number of venue types and events that incorporate rigging and truss, as well as go deeper into what they are, what their purpose is, and how they are actually done. Let us start with the biggest question!
What is the purpose of rigging and truss?
Incorporating trusses for your sound projection, lighting, stage and theater rigging efforts provides for greater flexibility (especially around the main stage area) when planning your event. Truss systems are pivotal for enhancing audio, video, lighting, motion capturing, staging, as well as other creative components.
Furthermore, by incorporating truss systems for your stage rigging you can save up more space around the stage and entire floor area. This way, your guests can have more room to mingle and enjoy a better vantage point of the entire stage a good view of the onscreen content. And, equally as importantly, your main acts can have more room around the stage area to display and entertain their audience.
What types of events and venues use rigging and truss?
There are several kinds of events that you can incorporate truss and rigging systems for your overhead lighting, loudspeakers, microphones, video screens, etc. Some standard events where stage rigging is popular include: concerts, theatrical shows, festivals, trade shows, large conventions, outdoor events, private functions e.g. weddings, etc.
Aside of practical purposes, so as to provide the best audio visual set-up that fits your event's needs, rigging also gives a more professional look and tone to your event and also gives your attendees more room to have fun. In addition, whoever you have present on stage will have more room to perform.
Virtually any kind of event venue can be rigged, regardless of the size, or whether it is indoor or outdoor. However, the stage rigging style will be determined by various essential parameters including the space, type of room, the audience size, etc. Permanent or semi-permanent truss structures and rigging are common in theaters, concert halls, stadiums, and even sporting venues, for instance.
At this point you may ask, that's all great but what is rigging and truss exactly? As usual, we have you covered:
What is rigging?
Rigging is the technology used by rigging technicians of your audio visual provider's crew to suspend equipment such as speakers, lights, draperies, microphones, LED screens, etc. from the ceiling or truss structures (yes, we will get to those, too, in a minute) for live events. Rigging can be constructed of various materials, depending on the kinds of equipment you want to attach or suspend from it. Some of the most common materials used for rigging construction include truss systems made of scaffolding or crossbeams, on which rigging equipment such as steel cables, chains, hoisting equipment, small motors etc. can be attached.
During the event, crew members use the motors to lower or raise the rigging when necessary. This makes for easy access for presenters, performers, or actors on stage. It is also useful for moving the lights for added effects during the show.
The different types of rigging
Rigging – just like any professional audio visual installation – is a serious business, and although the equipment and configurations, products, conditions, designs, etc. may change, the science and academic principles involved are constant, and must be applied thoroughly throughout. Regardless of the kind of rigging in view, each one requires vast insight and experience for a safe and timely finish.
There are three major kinds of rigging for entertainment, shows, or live concert purposes, which you have surely come across:
Arena-style & Theatrical Rigging
Stage Rigging
Event Rigging
Arena-style & Theatrical Rigging
Arena-style and theatrical rigging are both sub-genres of entertainment rigging. They're mostly similar in style and principles and the same skills often apply during setup. The main difference between both sub-genres is that in arena-style rigging, the setup is usually done in an arena (that is, an open or exposed venue), which may not have a roof or preset stage, e.g. a convention ground. In some other cases, a warehouse, ballroom, etc. may be used. Theatrical rigging on the other hand, involves a setup that takes place in a theater. As such, it would typically involve incorporating the theater's permanent fly system.
Stage Rigging
Stage Rigging (also known as theatrical-stage rigging or fly systems rigging) describes a rigging system that incorporates the use of pulleys, lines, and other rigging equipment to support, lower, lift, and fly props onstage. All of these is made possible using specialized backstage controls. These apparatuses also facilitate the dramatic lighting effects and specific prop movements on stage. Much caution and precise control is required for stage rigging.
Event Rigging
Event rigging is a little less tedious compared to the two previous rigging scenarios. This stage rigging style focuses on incorporating the right set of rigging equipment to hold or suspend lighting, video screens, speakers, and other types of AV gear. These equipment are usually suspended vertically or in an overhead position.
Preparations for the Helene Fischer Tour began at satis&fy's Werne location in 2017. As a technical service provider, they supported the tour in the areas of lighting & rigging. 
Equipment and machinery 
When thinking of what set of equipment to rig during your event, you must consider essential things like size, weight, rig strength, as well as other key parameters. Audio visual gear that are often rigged include speakers, microphones, video screens, lighting, cameras, etc.
Such event equipment can be rigged either manually, by cranes, or electric chain hoists (such as those manufactured by our technology partner LIFTKET), etc., depending on the size and weight of the gear., as well as the truss structure itself. Technicians use a variety of rigging equipment – cables, chains, ropes, clamps, straps, lifting slings, harnesses, etc. – to attach equipment to truss. These trusses bear the weight of massive speaker units, dozens of moving lights, hanging LED screens, staging sets, and any else that is in the air during your event.
How exactly does rigging work?
Rigging is best mounted overhead, as this provides the best projection angles and lighting display. Also, this way, the production team can keep a good chunk of the production equipment off the ground, thereby saving more floor space on the stage. This also gives your event a neater and more professional look overall.
In the event that the venue has no ceiling or the ceiling is too low, or has no rigging points, the rigging team can incorporate other platforms such as towers to raise the lighting, projection, speakers, and other equipment. If the venue needs a little more work, the rigging team can get more creative and incorporate other necessary rigging equipment.
When planning events, you must be mindful to ensure that you choose the correct space at the venue (if there is no fixed stage). This way, you can get more vibrant and creative stage rigging, as well as other benefits. Usually, teams will need to rig from 10 feet above the stage for the best results. One excellent way to avoid the drawbacks of choosing the wrong venue is to take your AV provider along when selecting a venue. With their expert insight, they can quickly tell you what kind of rigging the venue will accommodate, what types of truss should be used, etc.
Speaking of truss…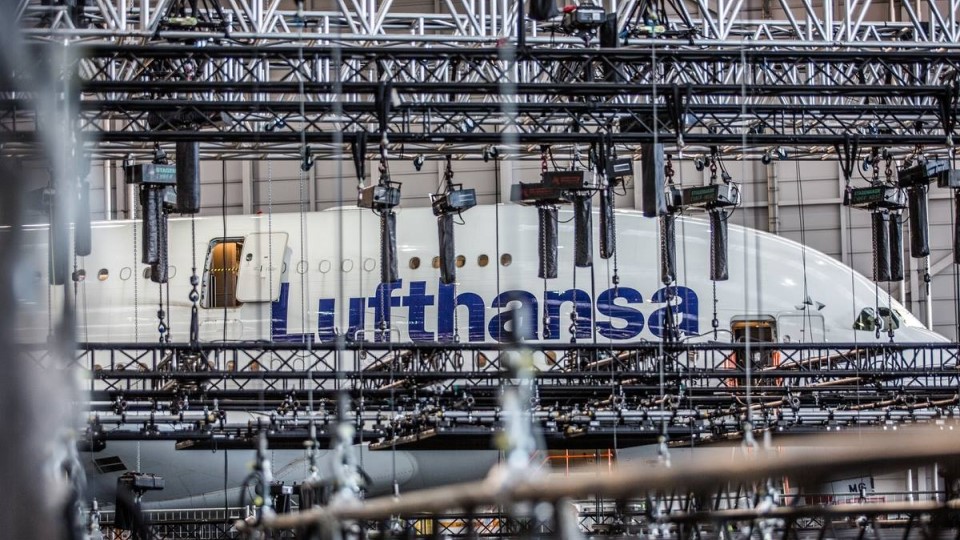 What is truss?
We have arrived at the term that usually has non-AV professionals scratching their heads. Trusses are usually made of a web of joined triangles, hinged together to facilitate for more even weight distribution, as well as comprehension and management of changing tension, without shearing or bending. Their most common use is for making bridges, towers, roofs, and for stage rigging. The most common material that trusses for events are made of is aluminium, which is not only durable but also lightweight to make rigging a much easier job.
Primarily, truss systems provide support to external load or rigging equipment hanging over large, extended spans or radiuses. Its component parts are usually stressed in comprehension and axial tension. It also incorporates other individual pieces that intersect at panel points or truss joints.
How is it built?
Building trusses require a bit of work. They're usually made from multiple straight materials (steel mostly, or as mentioned above, aluminium) which are hinged together in triangular formations. Through this design, truss systems can span across significantly longer distances without requiring any intermediate support. Unlike large, heavy girders, they are easier to implement and a more cost-effective solution.
Types of truss systems used for events
Truss systems typically comprise of the metal framings hinged to the ceiling by the rigging points and motors. From there, other production equipment such as the lighting, projectors, screens, cabling, speakers, microphones etc. are attached. Some popular truss systems include:
Conical Truss — this truss system features a simple, consistent, and effective design that is easy to assemble and saves time. It provides comfortable handling and added safety.
Spigoted Truss— this system comprises of thick, rigid aluminum tubes that are excellent for coping with severely heavy loads.
Pre-rig Truss — excellent for serious loads across longer spans. Their rectangular build exhibits enormous rigidity, making them suitable for both massive roof support or high demanding ground support.
Plated Truss — this truss is excellent for flying P.A. systems, supporting multiple lighting applications, and other various general-purpose use.
Touring Truss — this truss system is engineered to carry light fixtures. It can carry multiple equipment at once, and does the job excellently, without exerting much weight.
Importance of safety in rigging and building truss
Rigging can exert enormous weight, especially if not managed properly. The higher the rigging, the greater the dangers. As such, safety is paramount and it's important to incorporate the best practices for safety. To achieve this, the rigging team must apply ample technical know-how, carry out a risk assessment and conduct the entire procedure with adept precision.
In order to ensure that everything goes well, load calculations and safety checks are carried out prior to the setup of any structure. Strict engineering rules are an absolute must that are AV Alliance members all adhere to in order to provide safe structures and solutions for all different event types and sizes.
A lot comes into play when deciding what style of stage rigging, truss systems, and rigging equipment would be appropriate for an event. The first thing is safety, and then other key considerations such as the venue, number of guests, cost, physical infrastructure, etc.
A smart way to go about this is to incorporate the services of an AV expert to work with you through the whole planning process. This way, you avoid making the mistake of planning it all out, only to discover later that you had missed some crucial details – or worse, put your crew, performers, and audience in potential danger. Also, with the input of an expert, you can save more money and time in the process.
To learn more about the technical aspects, the necessary equipment, and the related costs of event rigging, we invite you to get in touch with us and find out what our AV Alliance members can do for you and your event!