Top-Quality Event Technology
40 years of experience in the international event sector, a stock of ultra-modern equipment throughout Germany, extensive technical know-how and a pronounced service philosophy: Neumann&Müller Veranstaltungstechnik is a high-end supplier of event technology. The company offers its clients expert consulting, creative design, detailed planning and high-quality realization in the fields of audio, lighting, video, conference technology, media production, event IT, rigging and staging. Additionally, N&M has accumulated an impressive amount of knowledge and experience with the planning and implementation of digital and hybrid events over the past years.
N&M's clients include agencies and event organizers as well as national and international corporations. The company manages the technical side of AGMs, trade fairs and product presentations, congresses and press conferences. Its specialists work out technical concepts for festivals, tours and cultural events. Moreover, since its very early days, N&M has worked very closely with major radio and television stations.
N&M supports its national and international clients with its 19 offices in Germany, its branches in Dubai, Barcelona and its team for Eastern Europe. The enterprise employs over 750 people and works with a partner pool consisting of 2,600 freelance specialists: technicians, supervisors and engineers from a variety of disciplines.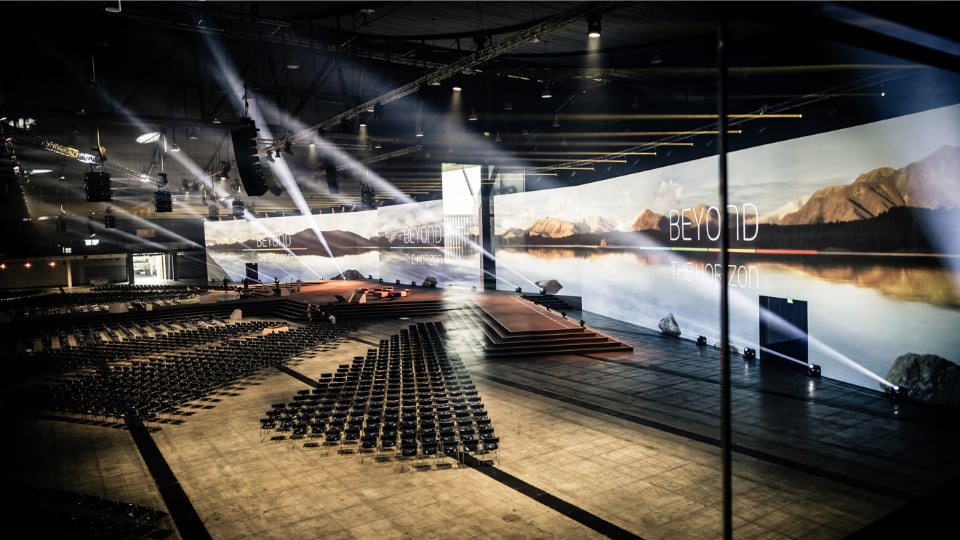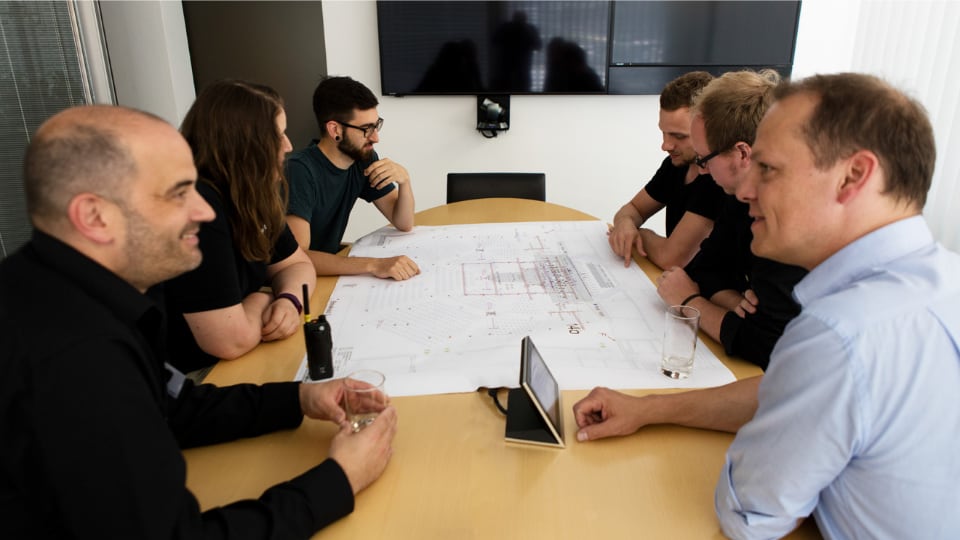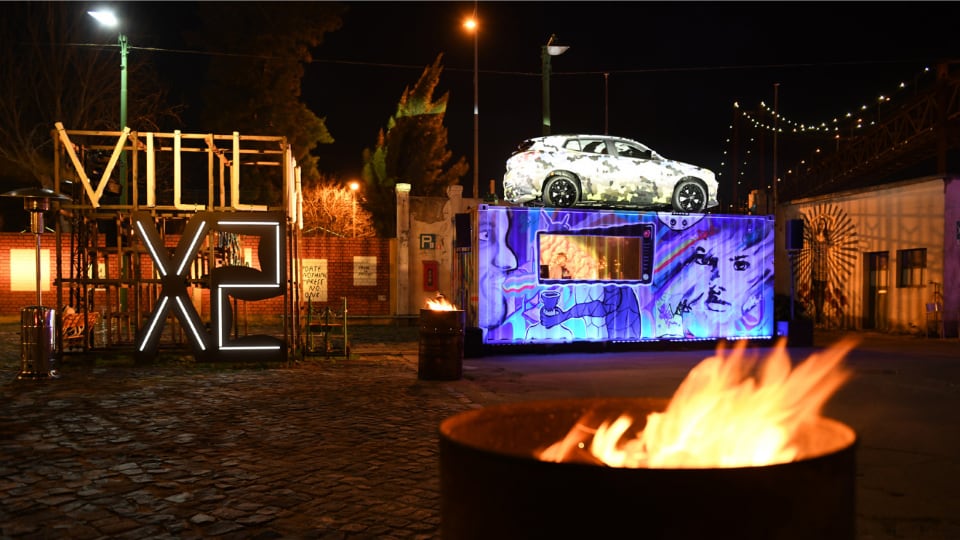 Cologne ⋅ June 2021
Screenforce Days
Under normal circumstances, over 2,000 participants come to Cologne in the early summer of each year to attend Germany's largest event for the TV and moving image sector. The event combines elaborate program screenings by TV marketing companies and TV channels with an accompanying congress agenda. For the lead event in 2021, Screenforce opted for a new, virtual format dubbed "out of the box", transmitted as a four-day live program from the streaming studio we have realised at "bauwerk.köln".
One highlight at N&M's partner venue is the "event boxes", which are mobile, individual room elements. At Screenforce Days, these event boxes served as ideal platforms from which to transmit pre-produced screenings as well as keynote speeches, discussions and specialist presentations on the latest research findings and developments in the sector.
Munich ⋅ June 2021
MINI Awards 2020
With its annual "MINI Awards", MINI Germany honours its best sales partners and thank them for their commitment at a gala event. For the first time since their inception nine years ago, the awards for 2020 were presented virtually, which meant that, despite the distance between them, the winners were able to celebrate their successes together.
In our role of full-service provider, we drew up and then implemented the entire concept for this Digital Live Event. Our partner venue "München Hoch5" in the Werksviertel district of Munich housed two set-ups and was used as a broadcasting studio for the 90-minute live stream.
As in previous years, Barbara Schöneberger acted as hostess for the show, creating a brilliant atmosphere together with Mousse T. & Emma Lanford with several songs adapted to a MINI theme. The show studio was set up in the style of a late-night show and provided the perfect setting for introducing and thanking the participants as well as for the performances.
Berlin ⋅ May 2021
12th Petersberg Conference
The Petersberg Climate Dialogue was launched at Germany's initiative in 2009 to serve as a platform for informal political discussions. Since then it has established itself as a milestone in international climate diplomacy. Environment ministers from over 40 countries accepted the invitation from the German minister to the 12th edition of the Dialogue, which was held in the form of a virtual conference at the beginning of May 2021.
Discussions focused on preparation for the COP 26 global climate change conference to be held in Glasgow in Scotland in November 2021. The PCD was supplemented by a series of virtual, public satellite events on a variety of climate protection issues held in advance of the event itself.
Dresden ⋅ September 2020
Open-air concert on rooftops: "Himmel über Prohlis"
Musicians and orchestras are among those for whom, for the foreseeable future, the corona pandemic means "abandoning familiar performance formats, orchestra sizes and audience constellations. However, the forced realignment also presents an opportunity to devise and try out totally new formats."
That was the premise of the Dresdner Sinfoniker (Dresden's symphonic orchestra) – and it gave birth to the "Sky over Prohlis" programme, which in many ways represents new territory for musicians, the audience and us as providers of technical services. The composer Markus Lehmann-Horn wrote a piece for 16 alpine horns, nine trumpets, four tubas and dagu drums, which was not to be performed in a concert hall but was intended to ring out from the roofs of a tower block estate in the Prohlis district of Dresden.
Esslingen ⋅ July 2020
FESTO Virtual Exhibition
"Smart. Flexible. Digital." was the slogan for the first "Festo Virtual Exhibition". The event was held in the middle of July 2020 in Esslingen, where the world's leading vendor of automation systems and technical education has its corporate headquarters. Visitors were able to experience a vivid presentation of Festo's entire range of diverse products on the virtual trade fair booth.
From vocational training and engineering through to plant operation, the enterprise set new impulses for factory and process automation. Visitors also learnt about the new opportunities offered by collaborative robotics in the working environment of the future and how customers can boost their energy efficiency with smart products.
Denmark ⋅ March 2020
Transformation of a Conference into a Digital Live Event
Special situations call for special solutions: at the beginning of January we were contracted by a client to plan and realize the technical side of its annual, two-day flagship event. The content of the conference consisted of a mixture of standard stage presentations with inspiring and influential speakers from the sector and numerous small creative workshops, at which 400 invited guests were able to try out interactive and playful methods as a way of exploring the various themes.
As global developments regarding the coronavirus came to a head, and the organisers had to make a decision, at Neumann&Müller we were forced to ditch our original planning begun back in January. As a precaution and out of consideration for the health of all involved, our team revised the concept for the event and, within six days, promptly turned it into a Digital Live Event. We set up a temporary studio on the client's premise and put it into operation.
International Festival of Brand Experience ⋅ Westfalenhallen Dortmund ⋅ January 2019
BrandEx Festival
The "International Festival of Brand Experience" (BrandEx) is a new and exciting format that premiered in Dortmund in January 2019. The idea of the festival is to provide a platform for regular, comprehensive and inspiring reflection and debate to ensure that the live marketing sector continues to grow and develop.
The result is an event that brings together different formats under one roof and provides exclusive discussion and performance forums for interdisciplinary exchanges of ideas between all involved in the sector – from old hands through to motivated newcomers.
Since the new format was launched, Neumann&Müller have been involved on the creative side of things together with dozens of insiders from various subsectors of our industry, who collaborate on concepts within project groups. The resulting marketing festival communicates know-how, gives attendees the opportunity to forge new contacts and networks, and is crowned by an award ceremony.
Deutsche Telekom AG ⋅ Fira de Barcelona, Spain ⋅ March 2017
Deutsche Telekom Fair Stand at Mobile World Congress
The Mobile World Congress is Deutsche Telekom's most important international platform for demonstrating its technological leadership. At the end of February 2017, over 2,200 companies met in Barcelona for the sector's annual gathering of network operators, smartphone producers and tablet manufacturers. The heading for the sector's leading international exhibition was "Mobile – The next element".
Deutsche Telekom's exhibition stand featured new products relating to "5G", the communication standard being promoted as the technical basis for the "Internet of Things". Neumann&Müller were in sole charge of the audio, lighting and video systems and were also responsible for the rigging on the exhibition stand, as we have been since 2014.
Location: International Congress Center (ICS) Stuttgart
Video quality: Live: 1080p50 / Stream: 1080p25
Sound quality: on demand
Number of cameras: 4
Internet speed: on demand, up to 200 mbit/s symmetrical
Screen/LED availability: 75″ and 85″ FullHD sreens; more screens and LED walls upon request
Streaming software used: hardware encoding for h264, software encoding optional
With three fully equipped studios and tailor-made streaming packages, Messe Stuttgart – the Stuttgart Trade Fair Centre – provides the perfect infrastructure for virtual and hybrid events. The ICS is located at the eastern end of Messe Stuttgart, placing it right next to the motorway and the airport. Learn more here!
Location: Station Berlin
Video quality: Live: 1080p50 / Stream: 1080p25
Sound quality: on demand
Number of cameras: up to 3
Internet speed: on demand, up to 200 mbit/s symmetrical
Screen/LED availability: 75″ or 98″ Display, LED Wall on request (2.86px recommended)
Streaming software used: hardware encoder
Location: Studios Station Airport Düsseldorf
Video quality: Live: 1080p50 / Stream: 1080p25
Sound quality: professional recording of video and audio
Number of cameras: up to 3 HD cameras
Internet speed: LAN: up to 10 gbit/s; WLAN: 100 mbit/s (can be upgraded to 300 Mbps)
Screen/LED availability: up to 3 55" preview displays; 10 x 3,5 m LED wall
Streaming software used: depending on client needs
Location: xR Stage at Bavaria Studios, Munich
Video quality: Live: 1080p50 / Stream: 1080p25
Sound quality: upon request
Number of cameras: crane-mounted camera; camera tracking system; 3 HD cameras
Internet speed: 100 mbit/s
Screen/LED availability: fully operational extended reality setup; 8 x 4 m LED rear wall; 6 x 4 m LED side wall; 8 x 6 m LED floor
Streaming software used: depending on client needs
Location: N&M Studio in Taufkirchen, Munich
Video quality: Full HD 1080p all framerates
Sound quality: Shure Wireless Systems, DPA Headsets, Yamaha Mixers, Broadcast Quality
Number of cameras: 4
Internet speed: 200MBit Up / 200 MBit down
Screen/LED availability: curved WatchOut-Screen, flat screen 9m x 3,60m
Streaming software used:hardware encoding for h264, software encoding optional
Location: International Congress Center Munich (ICM)
Video quality: Stream Full-HD/25p
Sound quality: Shure Wireless Systems, DPA Headsets, Yamaha Mixers, Broadcast Quality
Number of cameras: Different packages from 2-4 cameras
Internet speed: 100 Mbit/s
Screen/LED availability: on demand
Streaming software used:hardware encoding for h264, software encoding optional
Location: Hamburg City Studio
Video quality: HD and 4K
Sound quality: 44.1kHz / 48kHz
Number of cameras: 4
Internet speed: 100 mbit sym.
Screen/LED availability: LED screen upon request
Streaming software used: Blackmagic ATEM2 / Vmix
Please use the contact form above to request a quote for your event, or reach out to our contact person below!