In the past 12 months online events, and by proxy live streaming have gone through a transformation that is beyond remarkable in such a short period of time. Manufacturers and event production companies alike have been upping the ante with new technology and adapting to the rapidly changing needs of virtual audiences worldwide. This revolution has paved the way for  the age of hybrid events, and the increased use of technologies such as AR, VR, Mixed Reality (MR) – and of course the mystical Extended Reality (xR), which blends all three together under one umbrella.
We know by now that the virtual element of our lives is not going to go away with the passing of the pandemic. Uncertainty, if on a much more manageable scale, is here to stay for decades, and people have realized that the easiest way to be ready and adapt to changed circumstances is utilizing virtual tools. International travel and in-person mass events will hold less appeal than before to many for a while longer, but life goes on and business must be attended to. Hybrid events will be the ultimate solution to cater to the different needs of audiences – both in person and in the online realm, offering a live experience for those who are willing to attend, and live streaming the event to those who have to or wish to stay at home.
Many industry experts predict an increase in hybrid events in the fall, once vaccinations make it possible for clients to host live events of some capacity once again. Determined to meet this future need, the events and entertainment business is preparing for the switch from solely virtual to hybrid events, and this means that they are not only adapting their offerings accordingly, but also the technology that they are using.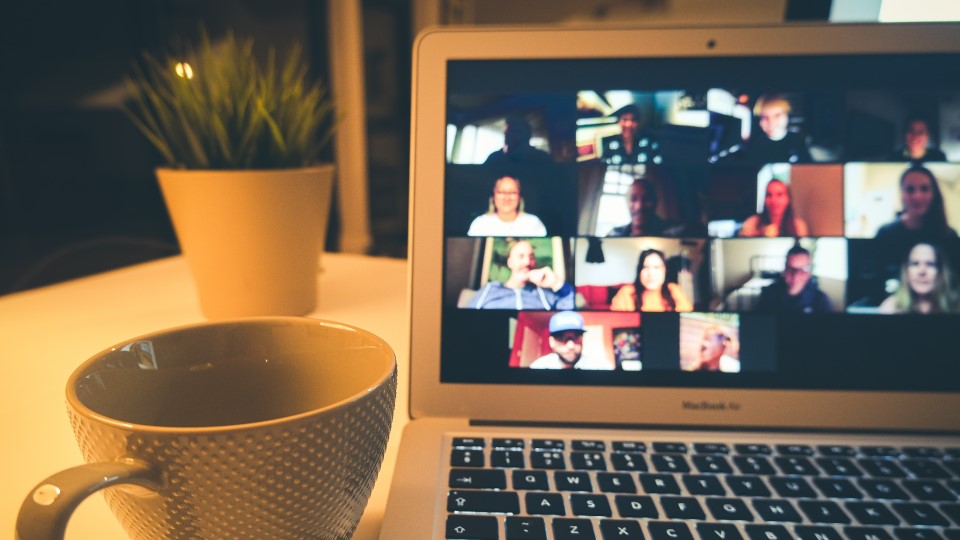 The most recent third – in some countries, fourth – wave of the pandemic has pushed back many of the already planned trade shows, festivals, etc. that would have signaled the return to normalcy for the event and entertainment business in mid-2021, but in places like Australia, the hybrid phenomenon is already in full swing. Despite the predictions, the issue that event professionals are facing is this, however: while for AV company-turned-event experience providers the new era of hybrid events is already looming on the distant horizon, the market is yet to catch up with this new trend.
It is hardly surprising if we consider the technological challenges of the past year. Becoming go-to experts in live streaming and broadcasting virtual events, familiarizing ourselves with different tools and virtual event platforms, and thinking beyond our current limitations to recognize the immense opportunity that the crisis brought us, was an arduous process even for seasoned event professionals. For our clients, the process of adapting from live to virtual was even more difficult, and event production companies – like all of our global AV Alliance members – stepped up as experts to ease the transformation and offer creative, forward-thinking solutions to make traditional live streaming events special.
What exactly are hybrid events?
The concept, in essence, is nothing new, and has existed in some shape or form ever since live streams were invented. In today's socially distanced world, where there is an increasing willingness to finally meet in person, but with prospects of international travel still being – excuse the pun – up in the air, the importance of innovative concepts has increased tenfold. However, today's hybrid events are more than just a mixture of virtual and live elements, they are the bridge that will bring together yesterday's practices, today's reality, and the possibilities of tomorrow. Hybrid events go beyond a simple live stream of your in-person experience, as they must uphold a delicate balance of engaging both live and online audiences equally, creating a cohesive auditory, visual, and experiential adventure for everyone involved. 
By definition, hybrid events can be incredibly simple and created without professional technology. Live streaming something on YouTube with a single camera is, however, not the direction that companies and the event industry are looking to proceed in. With our lives currently being inundated with endless Zoom calls, podcasts, webinars, live streamed meetings, we all yearn for a break that will stimulate our minds, senses, and create excitement – even if we are stuck behind our monitors. The fight for your audience's attention is fierce, and clients in every sector of every industry feel this. It is no longer enough to give your audience nice video content or an adequate virtual event platform, as the threshold of engagement has gone through the roof with each passing month since the pandemic began a year ago.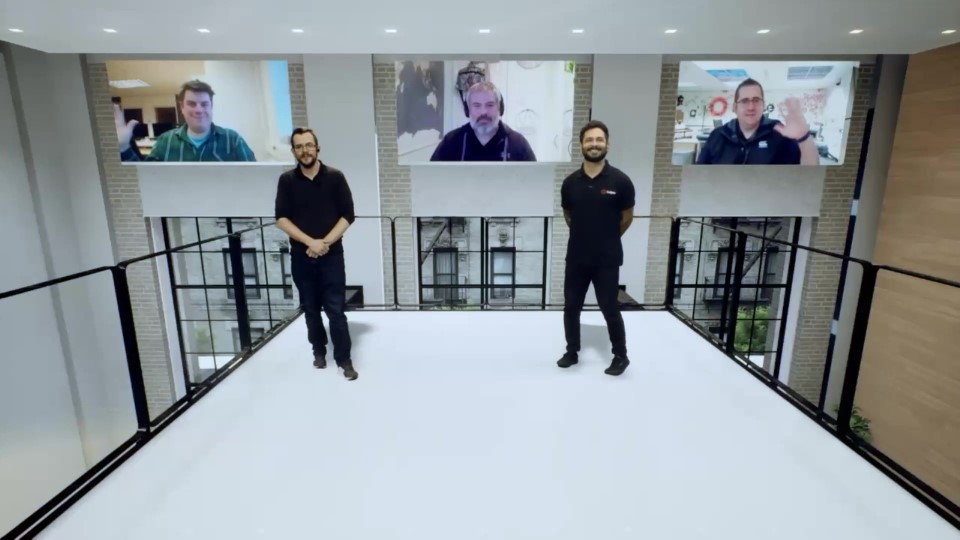 Eclipse Global's digital event studio environment
What is Mixed Reality and how does it relate to hybrid events?
Mixed Reality is itself a hybrid solution, a combination of augmented and virtual reality in which those who experience it see a real-world environment seamlessly blended with virtual objects and features that are anchored in the physical surroundings. This anchoring allows any user to actually interact with these virtual elements as if they were real objects – much like scientists in Sci-Fi and superhero movies. This opens up new possibilities in technology beyond VR (where there is no interaction with an actual, physical environment – much like playing PlayStation VR) and AR (where an interactive, digital experience is overlaid a real world setting – think Pokémon GO before it, too. ventured into Mixed Reality). 
But what does this technology have to do with live streaming an event? In order to break away from "Zoom fatigue" and the monotony of standardized virtual events that provide much less interaction, engagement, and sales opportunity than a live event would, companies are beginning to look into professional event solutions that cater to their changing needs: creative event design, meetings that involve physical, interpersonal connection as well as a global reach virtually, high-end technology, and that extra touch – engagement – that lets them stand out of the crowd. The latter does not only mean verbal engagement, it is a whole new level of mesmerizing your audience through stunning audiovisual experience. Mixed Reality has been used in the consumer sector, HR, and manufacturing even before the pandemic, but now, due to the massive innovations that have occurred in the event technology industry, new horizons are opening up in this field.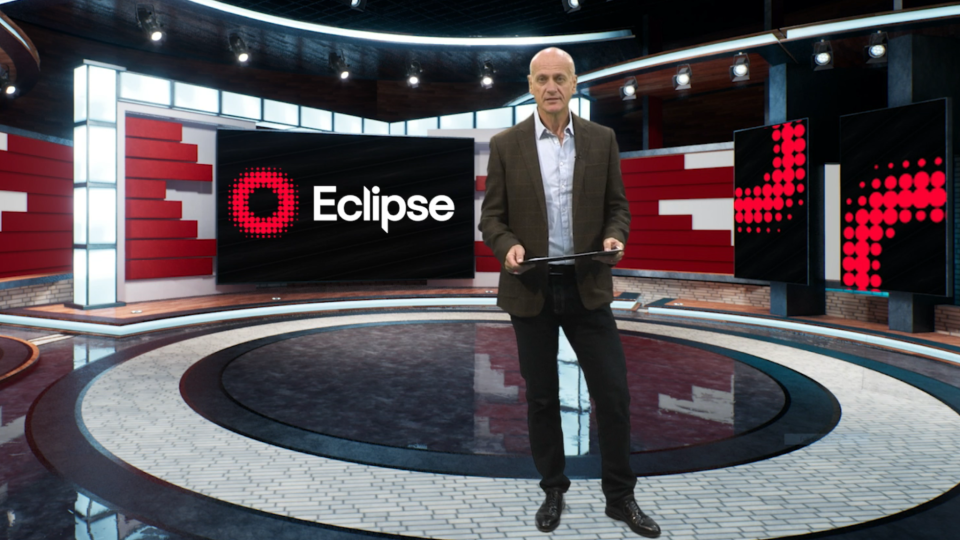 Eclipse CEO and owner Robin Purslow in their digital event studio environment
Mixed Reality in a Digital Event Studio
Event experience providers, such as members of our global network at AV Alliance, have immense experience in bringing unforgettable live events to the masses, and have championed the virtual event revolution of the past year by learning and mastering the technology and the finesse that was necessary to bring people together online. Most of our members are now equipped with dedicated live streaming studios (often called virtual studios) that are specifically designed to provide a fully-equipped professional backdrop to small or large virtual events. Some of these studios are permanent, some are mobile and can be set up in any venue, making the lives of clients that much easier. With such infrastructure and expertise already at hand, hybrid events are an exciting and logical next step for the event industry, and a few months into 2021 interest from the corporate world is finally starting to show.  
The AV Alliance network currently has live streaming studios in almost 80 locations worldwide, and had a boost in the number of brand new xR studios (by Eventi-X Group, LMG, Maxi, Pixl just to name a few) in the past few months. These facilities are capable of delivering on the advanced technology that is required to create life-like blended reality environments and experiences. Such technologies include animated 3D creations screened onto massive walls of LED panels, xR stages that create a 360° virtual world in which people can move and interact, camera tracking, real time rendering, etc. Augmented and virtual realities coexist and complement each other in such an environment, creating a tangible blended world that exists beyond VR goggles or phone applications.
Virtual event studio by Eclipse Global
Our latest AV Alliance member to complete its new, upgraded digital studios was London-based Eclipse, a turnkey event production and solution provider with 30 years of history. Their latest endeavor showcases perfectly the type of possibilities that lie within hybrid events, and new potential in virtual broadcasts and live streams. Eclipse's next generation of MR-equipped event studios have been designed to create bespoke environments for their clients based on any already existing venue or location, or completely built from scratch digitally.
Not unlike a video game environment, broadcasts and live streams from a MR/xR studio can incorporate a host of 3D elements – animations, models, products, charts, etc. – and even video footage – of a fellow presenter tuning in from the other side of the world, for example – into a physical stage environment, rendered into any frame in real time. A studio with such capacities can be linked to any location in the world, connecting live audiences, hubs, or even multiple immersive virtual stages in real time while giving you, the client, the freedom to control and deliver a cohesive event experience – regardless of the nature of the event. Mixed Reality is a technology that is perfect for hybrid events, as it offers limitless possibilities while still remaining a cost-effective and creative solution.
According to Eclipse, "the digital studio environment can be based on an existing venue, stage or site", while their "in-house GFX designers can also develop all-new environments to fully immerse event audiences within any desired environment. With hybrid on the horizon, the solution isn't limited to its existing studios, with the event production experts able to deliver the solution from any venue or location."
Once circumstances allow, are you ready to take the leap and go hybrid?
At AV Alliance we are ready when you are.