Services
Simultaneous interpretation
What is simultaneous interpretation?
The simultaneous interpretation or translation of oral communications is required at international, multilingual meetings and conferences. Often the translation is also streamed via web streaming services to reach a global audience. Modern interpretation services also have the interpreters and translators at a remote location, with the audio being streamed to the interpreter for translation and back to the event audience. The interpreter simultaneously translates for instance a speech (or any spoken word), while the speaker is engaged on the stage. This process is sometimes called translation. However, to be precise the process of conveying oral communication into different languages is considered as interpreting. The engaged interpreters sit classically in soundproof boxes and work together in pairs. They have access to the audio and video stream of the speaker. While the speaker talks the interpreters will convey the speech into a variety of different languages. A good interpreter will establish an uninterrupted flow of audio to get your message smoothly to the audience. This complex form of communication emphasizes the importance of selecting a professional interpreter. The application of the latest equipment also ensures that the speakers and listeners at an event are not interrupted or distracted. Our professional equipment covers digital solutions, wireless headsets and microphones, cabling, streaming and broadcasting. The combination of interpreting the speaker quickly and intelligently and the best technology is key to bring the speaker message across to your audience.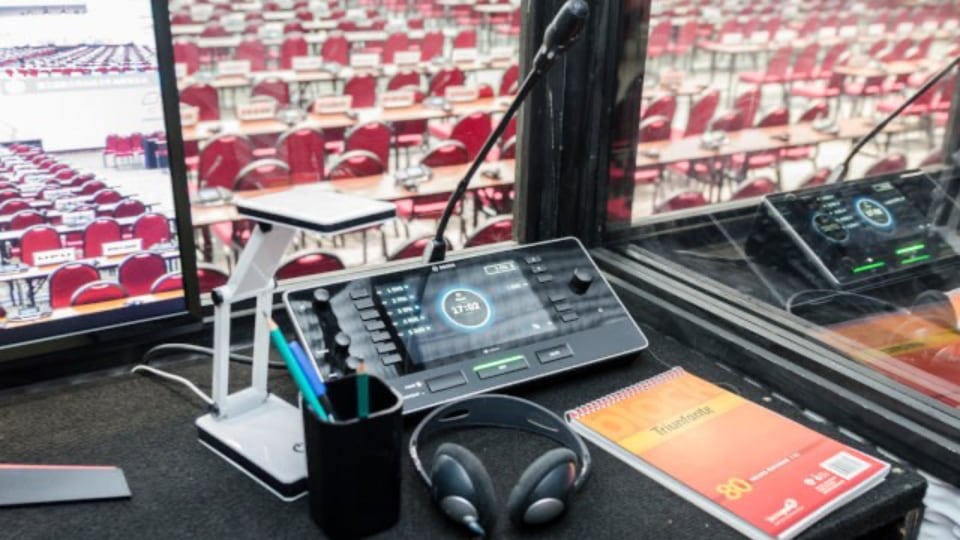 Premium conference interpretation service
Many of our member companies deliver professional simultaneous interpreting services (also known as simultaneous translation services). Our job is to make the delegates feel like the event was run in their own native language. To deliver a seamless interpretation specialized interpretation equipment is required. The applied interpreting technology is key to an uninterrupted experience for your event audience. A simultaneous interpretation company who is part of AV Alliance is required to maintain modern and reliable equipment to provide an optimal experience. Much of the equipment applied is technically advanced. We use typically reliable equipment from Bosch, or other high-quality manufacturers.
Simultaneous interpretation service is regularly required for international meetings to large global conferences. In the later case there will be typically a live interpretation into many different languages. Seamless linguistic services allow for your audience with different language backgrounds to understand the content provided, to be included in the conference. Providing satisfying interpretation services ultimately fosters the engagement of all meeting or event participants.
Our members offer professional equipment and provide the full range of high quality simultaneous interpreting services. From the setup of the required event technology to the hiring of the necessary interpreters our members offer the full range of services and interpretation solutions to you. When you engage an AV Alliance member company, we ensure the hired interpreters are qualified and highly experienced. In addition to modern audio visual equipment we provide the highest level of technical support. During the planning phase of your meeting or show our experienced technicians will identify your need in terms of required devices, configuration and additional services. When it comes to setting up the event our technical staff will support the installation in your selected venue and remain on site to cover all your needs during your conference or convention. Our goal is simple: To provide you with excellent simultaneous interpretation services for any type of live event.
Depending on the type of live event our member companies can supply you with portable interpretation equipment or stationary equipment. The later includes a simultaneous interpretation booth with wireless or wired microphones, receivers, headsets etc. Special events require the setup of stationary interpretation devices. A local simultaneous interpretation booth provides complete sound isolation. This allows the interpreters or translators to concentrate on their important work.
Applying modern streaming technology for your event allows us to work with remote interpreters, which can be useful for live events with a limited budget for interpretation services. We also deliver simultaneous translation apps for your guests.
Our interpretation solutions are available for a variety of live events and industries:
Corporate events
Medical congresses
Legal congresses
Business meetings
Technology companies
Government meetings and conferences
International congresses
Engage the AV Alliance network to find your preferred provider of simultaneous interpretation solutions for your next event. We ensure all your translation needs are covered by our experts, applying the internatonal quality standards of the AV Alliance.